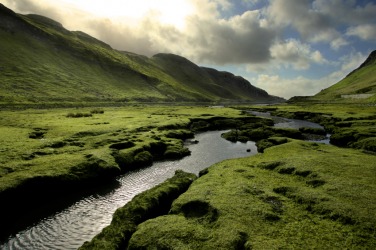 A creek running through a valley.
noun
The definition of Creek are Native American people living in parts of Florida and Oklahoma.

An example of Creek is a member of the Muscogean Nation.

The definition of a creek is a shallow stream of water.

An example of a creek is a stream of water flowing down a mountain and into a river.
---
Creek
noun
Now Chiefly Brit.

a narrow inlet or bay
☆ a small stream, somewhat larger than a brook

Obsolete

a narrow or winding passage
Origin of creek
Middle English (rare)
creke
(from source mod. pronunciation
krēk
), (common)
crike
(from source pronunciation
krik
) from source Old Norse
kriki
, a bend, winding, hence winding inlet, akin to Old Frisian
kreke
, Middle Dutch
creke
: for Indo-European base see cradle
noun
pl. Creeks or Creek a member of a cultural and political grouping (the ) of North American Indian peoples, mainly Muskogean, formerly of Georgia and Alabama, now living in Oklahoma and Florida
the Muskogean language used as a lingua franca in the Creek Confederacy; Muskogee
Origin of Creek
shortened ; from earlier Ochese
Creek
Indians, 17th-c. name for the Indians of the upper Ocmulgee River, Georgia
---
Creek
noun
A small stream, often a shallow or intermittent tributary to a river. Also called regionally branch, brook1, kill2, run.
A channel or stream running through a salt marsh: tidal creeks teeming with shore wildlife.
Chiefly British A small inlet in a shoreline, extending farther inland than a cove.
Origin of creek
Middle English
creke
, probably from Old Norse
kriki
,
bend
.
noun
pl.
Creek
Creek
or
Creeks
a. A member of a Native American people formerly inhabiting eastern Alabama, southwest Georgia, and northwest Florida and now located in central Oklahoma and southern Alabama. The Creek were removed to Indian Territory in the 1830s.

b. The Muskogean language of the Creek.

a. A Native American confederacy made up of the Creek and various smaller southeast tribes.

b. A member of this confederacy. In all senses also called Muskogee1.
Origin of Creek
From the picturesque creeks near which they lived
.
---
Creek
Noun
(plural creeks)
(UK, India) A small inlet or bay, narrower and extending farther into the land than a cove; a recess in the shore of the sea, or of a river; the inner part of a port that is used as a dock for small boats.
(Australia, New Zealand, Canada, US) A stream of water smaller than a river and larger than a brook.
Any turn or winding.
Origin
creke, from kryk, from Old Norse kriki .
Noun
(plural Creeks)
one of a Native American tribe from the Southeastern United States
Proper noun
the Muskogean language of the Creek tribe
Adjective
of or pertaining to the Creek tribe

The chieftain was well versed in Creek history.
---
Creek
Variant of creek
noun
Now Chiefly Brit.

a narrow inlet or bay
☆ a small stream, somewhat larger than a brook

Obsolete

a narrow or winding passage
Origin of creek
Middle English (rare)
creke
(from source mod. pronunciation
krēk
), (common)
crike
(from source pronunciation
krik
) from source Old Norse
kriki
, a bend, winding, hence winding inlet, akin to Old Frisian
kreke
, Middle Dutch
creke
: for Indo-European base see cradle