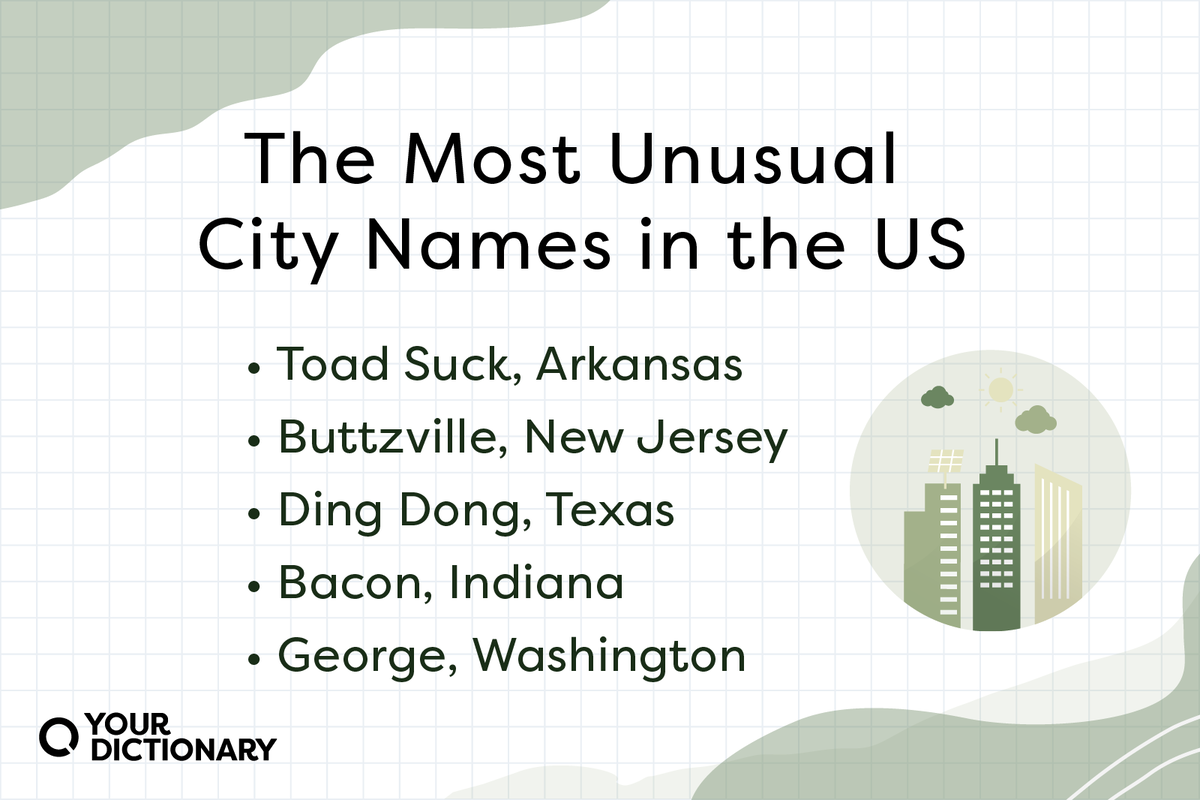 Imagine glancing at the next road sign to discover that you're in a community called Pee Pee or a township named Toad Suck. So how did towns like Pee Pee or Hell for Certain get their names? (And maybe Toad Suck isn't that bad after all?)
13 Funny City Name Origins
A surprising number of places in the United States have wildly unusual names. Were you aware of these before you blinked at your map in disbelief?
At first glance, the unincorporated community of Boring, Oregon doesn't look like an exciting place to visit. But look past the name (which isn't a descriptor of the town; it comes from settler William Harrison Boring) and you may find a great vacation spot. 
Just a few miles outside Portland, Boring hosts the North American Bigfoot Center and the Boring Volcanic Field — so how boring could it really be?
Even if you're not 12 years old, the community of Buttzville, New Jersey may give you a chuckle. It's named after two Buttzes — founder Michael Buttz and his son, Liam Buttz — and is located within White Township in Warren County. 
Stop by for a hot dog from Hot Dog Johnny's and a quick giggle on your way to the Pocono Mountains.
The big state of Texas boasts many uniquely monikered towns, including Ding Dong — a tiny town named after founders Burt and Zulis Bell. (Get it?)
Legend has it that they were having a sign put up in front of their country store and a neighbor commented that they should use bell imagery and the words ding dong.
(Coincidentally, Ding Dong is located within Bell County, which is named after a completely unrelated Bell: Peter Hansborough Bell, third governor of Texas).
You may think that residents of a community named Embarrass would walk around with flushed cheeks all the time. (They do, but that's just because it's freezing cold in Northern Minnesota). 
However, Embarrass isn't named after a feeling of pubic shame; it's named after the French word embarras, meaning "confusing or put in a difficult situation." French fur traders evidently had a difficult time navigating across the nearby river, which they named "Embarras" accordingly, and which also became the name of the nearby area.
Hell for Certain, Kentucky
Also called Hell-Fer-Sartin by those in-the-know, the community of Hell For Certain, Kentucky is sure to raise an eyebrow or two with out-of-towners. 
The small town was named after the nearby Hell For Certain creek, and while no one's really sure how either place got its distinctive name, one theory involves a missionary describing where he'd been as "I don't know, but it was Hell for certain!" (Not to be confused with Hell, Michigan, or Hell, California.)
Naming a town is more difficult than it looks. When it comes to Last Chance, Iowa, there are lots of possible origin stories for the small community's name (they had one last chance to name the local post office; no one could think of a town name and it was the last day they could name it; the area was popular for "last chance" auctions), but no one really knows for sure. 
No matter how Last Chance was christened, it's bound to feel inspiring for those who just need one more opportunity to get on their feet.
When townspeople wanted to think of a memorable name for their community, they tried to think of an odd name — and what's odder than Odd? 
The good people of Peculiar, Missouri tried to beat out the Oddians for on-the-nose strangeness, but "Odd" has a bit more of a foreboding feel that appeals to mountain folks and mystery writers.
If Buttzville didn't do it for you, you may want to stop by the township of Pee Pee, Ohio. It was named after nearby Pee Pee Creek (try to avoid the mental image), where Major Paul Paine carved his initials into a tree in the late 18th century.
Paul Paine = P.P. = Pee Pee.
Rough and Ready, California
Like many California landmarks, the community of Rough and Ready was born during the 1849 Gold Rush. It got its eye-catching name from the Rough and Ready Mining Company, which in turn got its name from President Zachary Taylor (nicknamed "Rough and Ready" during the Black Hawk War). 
Rough and Ready proved how hardcore it really was in 1850 when it seceded from the Union and became The Great Republic of Rough and Ready, but it eventually rejoined the Union in time for California to become a state months later.
Despite what its name might imply, Toad Suck, Arkansas is neither overrun with toads nor sucking of toads (whatever that is). Conflicting stories arise when it comes to the name, but due to the influx of French settlers during the state's early days, the most likely origin of Toad Suck is a reference to a protected river eddy, often called a "suck" — and when the water is low, that suck may be full of toads. 
Additional theories include sailors getting drunk as toads (sucking on the bottle) and the Anglicization of a French phrase, but they don't hold as much water.
Truth or Consequences, New Mexico
Does art imitate life, or does life imitate art? In New Mexico, it's the latter — or at least it was in 1950 when the town of Hot Springs renamed itself after the radio show Truth or Consequences to win a contest (the show would broadcast an anniversary episode from the first town to officially rename itself). 
The name stuck, as did the springtime celebration of the name change, known as Fiesta.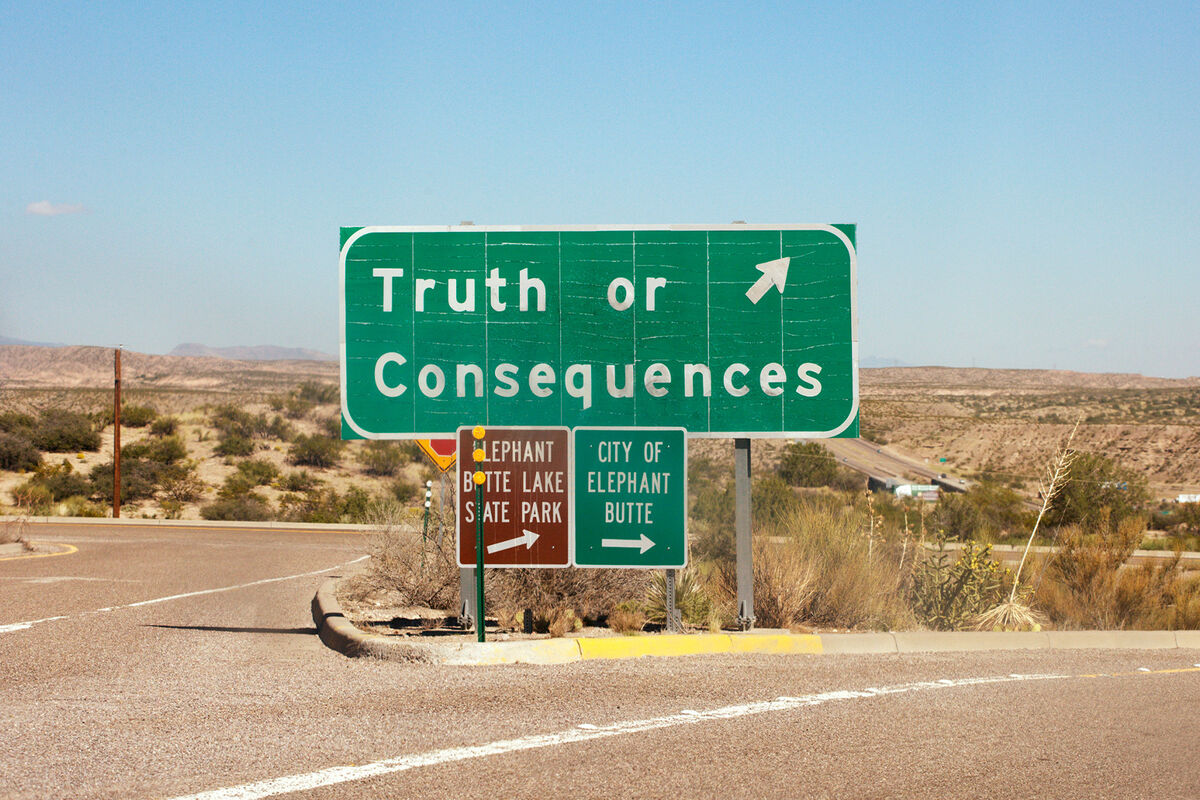 For a town named after a question word, Why's name origin has a pretty good answer. The area had been known simply as Y before having to officially name itself, as two highways formed a Y-intersection there. 
But in Arizona, towns need to have at least three letters, so Y became Why, making it one of the only times the word "Why" can stand alone without a question mark.
If you've ever been in a meeting that lasted so long you no longer cared about the outcome, you may be able to relate to the founders of Whynot, North Carolina. 
The story goes that after discussing potential town names for hours, the balking community members wondered why they couldn't just name their town "Why not" and be done with it. 
Turns out, they could — and while the two-word "Why Not" eventually became Whynot, their frustration lives on in state history. (Maybe check it out if Why, Arizona is a bit too open-ended for you.)
How many of these funny town names have you heard before — and how many are on your next road trip list?
Accident, Maryland
Bacon, Indiana
Bat Cave, North Carolina
Bee Lick, Kentucky
Best, Texas
Bigfoot, Texas
Big Rock Candy Mountain, Vermont
Booger Hole, West Virginia
Bugscuffle, Tennessee
Cheesequake, New Jersey
Chicken, Alaska
Fart, Virginia
George, Washington
Greasy, Oklahoma
My Large Intestine, Texas
Rabbit Shuffle, North Carolina
Sweet Lips, Tennessee