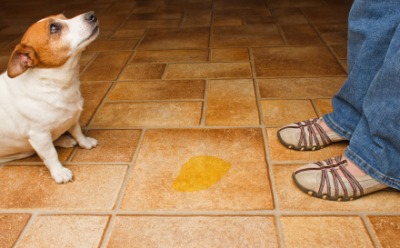 A little doggie is in trouble for leaving urine on the floor.
noun
Urine is a waste product of animals, typically liquid (solid in birds and reptiles) containing urea or uric acid.

An example of urine is the yellow fluid that squirts from between a dog's legs as it's lifting one leg to pee on a tree.
---
urine
a waste product of vertebrates and many invertebrates, secreted by the kidneys or other excretory structures: in mammals, it is a yellowish liquid containing urea, certain salts, etc., which is stored in the bladder and discharged periodically from the body through the urethra; in birds, reptiles, etc., it is a solid or almost solid substance formed chiefly of uric acid
Origin of urine
Old French from Classical Latin
urina
, urine from Indo-European an unverified form
?r-
, variant, variety of base an unverified form
awer-
, to moisten, flow from source water, Classical Greek
ouron
, urine
---
urine
noun
The waste product secreted by the kidneys that in mammals is a yellow to amber-colored, slightly acidic fluid discharged from the body through the urethra.
Origin of urine
Middle English
from
Old French
from
Latin
ūrīna
; see
wē-r-
in Indo-European roots.
---
urine

Noun
(usually uncountable, plural urines)
Origin
From Middle English, from Old French, from Latin Å«rÄ«na ("urine"), from Proto-Indo-European *uh₁r-, zero grade of *weh₁r- ("water, liquid, milk"). Related to *h₁ewHdÊ°rÌ¥- (see udder).
---