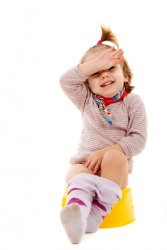 A little girls goes pee.
noun
Pee is defined as the act of urinating or to urine.

When you drank three sodas and you really need to use the bathroom, this is an example of a time when you need a pee.
The urine that comes out and goes on a fire hydrant when a dog goes to the bathroom on a fire hydrant is an example of pee.
verb
To pee is to urinate.

When you go and use the toilet and urinate, this is an example of when you pee.
When you are so frightened that you wet your pants or are afraid you will wet your pants, this is an example of when you pee from fright.
---
pee
intransitive verb
transitive verb
peed

,

pee′ing
to urinate
Origin of pee
origin, originally euphemistic use of p(iss)
urine
an act of urination
---
pee
Informal
verb
peed, pee·ing, pees
verb
intransitive
To urinate.
verb
transitive
To urinate in (one's clothes or one's bed).
noun
Urine.
An act of urination.
Origin of pee
From the first letter of
piss
---
pee

---