puddle

pud·dle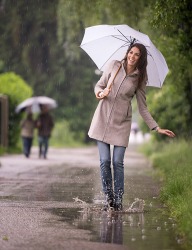 A woman walking in a puddle on a rainy day.
noun
The definition of a puddle is a small area of collected liquid or muddy water.

An example of a puddle is standing water over a clogged outdoor drain, after a heavy rain.
verb
Puddle is defined as to roll around in muddy water, make water muddy or create a small collection of muddy water.

An example of puddle is a pig rolling around in shallow muddy water.
An example of puddle is digging a small hole in the dirt and filling it with water.
---
puddle
a small pool of water, esp. stagnant, spilled, or muddy water
a thick mixture of clay, and sometimes sand, with water, that is impervious to water
Origin of puddle
Middle English
podel
, diminutive from Old English
pudd
, ditch, akin to Low German
pudel
transitive verb
-·dled

,

-·dling
to make muddy
to make a thick mixture of (wet clay and sand)
to cover with such a mixture to keep water from penetrating
to treat (iron) by puddling
to dabble or wallow in dirty or muddy water
---
puddle
noun
a. A small pool of water, especially rainwater.

b. A small pool of a liquid.

A tempered paste of wet clay and sand that serves as waterproofing when dry.
verb
pud·dled, pud·dling, pud·dles
verb
transitive
To make muddy.
To work (clay or sand) into a thick watertight paste.
To process (impure metal) by puddling.
verb
intransitive
To splash or dabble in or as if in a pool of liquid.
Origin of puddle
Middle English
podel
diminutive of
Old English
pudd
ditch
Related Forms:
---
puddle

Noun
(plural puddles)
A small pool of water, usually on a path or road. [from 14th c.]
A homogeneous mixture of clay, water, and sometimes grit, used to line a canal or pond to make it watertight. [from 18th c.]
Verb
(third-person singular simple present puddles, present participle puddling, simple past and past participle puddled)
To form a puddle.
To process iron by means of puddling.
To line a canal with puddle (clay).
To collect ideas, especially abstract concepts, into rough subtopics or categories, as in study, research or conversation.
To make (clay, loam, etc.) dense or close, by working it when wet, so as to render impervious to water.
To make foul or muddy; to pollute with dirt; to mix dirt with (water).
Origin
Middle English podel, diminutive of Old English pudd 'ditch', from Proto-Germanic *puddo (compare Low German Pudel 'puddle').
---