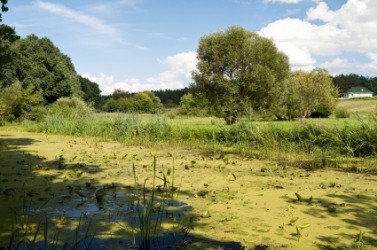 A quagmire in the Ukraine.
noun
The definition of a quagmire is soft, wet ground or a complex and difficult situation with no easy solution.

An example of a quagmire is a tense meeting where everyone is angry with each other and there's no clear way to solve the problems.
---
quagmire
wet, boggy ground, yielding under the foot
a difficult or inextricable position: a quagmire of debts
Origin of quagmire
quag + mire
---
quagmire
noun
Land with a soft muddy surface.
A difficult or precarious situation; a predicament.
---
quagmire

Noun
(plural quagmires)
(figuratively) A perilous, mixed up and troubled situation; a hopeless tangle; a predicament.

The paperwork got lost in a quagmire of bureaucracy.
Those election results are a quagmire for any coalition except one of national union
Origin
Recorded since 1579, from two virtual synonyms: obsolete quag ("bog, marsh") (a variant of Middle English quabbe ("a marsh, bog"), from Old English *cwabba ("shake, tremble like something soft and flabby"); cognate with Dutch kwab) + mire (from Middle English, from Old Norse mýrr, akin to Old English mōs ("marsh") and English moss). The sense "difficult situation, inextricable position" is recorded since 1775.
Alternative: Apparently a var. of the earlier quakemire, from quake + mire.
---