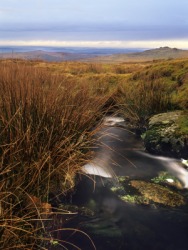 A quag in Dartmoor.
noun
The definition of a quag is a shortened version of quagmire, with means a bog or wet area covered in rotting plants.

An example of a quag is a marsh in the English countryside.
---
quag
Origin of quag
from uncertain or unknown; perhaps
---
quag
noun
A quagmire.
Origin of quag
Perhaps variant of
Middle English
quabbe
from
Old English
cwabba
---
quag

---