noun
The definition of a bog is small marsh with wet ground made up of decaying plants, usually moss.

An example of a bog is a quaking bog, or a bog that is sturdy enough for walking but causes things to sway when you move on it.
verb
To bog is to sink, slow or become stuck, usually to "bog down."

An example of bog down is to have lots of stress about studying for an upcoming exam.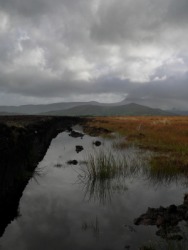 A bog under a stormy sky.
---
bog definition by Webster's New World
noun
wet, spongy ground, characterized by decaying mosses that form peat; a small marsh or swamp
Origin: ; from Gaelic and amp; Irish bog, soft, moist (from source Irish bogach, a bog) ; from Indo-European an unverified form bhugh- ; from base an unverified form bheugh-, to bend from source bow
Webster's New World College Dictionary Copyright © 2010 by Wiley Publishing, Inc., Cleveland, Ohio. Used by arrangement with John Wiley & Sons, Inc.
---
bog definition by American Heritage Dictionary
noun
a. An area having a wet, spongy, acidic substrate composed chiefly of sphagnum moss and peat in which characteristic shrubs and herbs and sometimes trees usually grow.

b. Any of certain other wetland areas, such as a fen, having a peat substrate. Also called peat bog.

An area of soft, naturally waterlogged ground.
verb
bogged
bogged
,
bog·ging
,
bogs
verb
, transitive
To cause to sink in or as if in a bog: We worried that the heavy rain across the prairie would soon bog our car. Don't bog me down in this mass of detail.
verb
, intransitive
To be hindered and slowed.
Origin: Irish Gaelic bogach, from bog, soft; see bheug- in Indo-European roots.
Related Forms:
The American Heritage® Dictionary of the English Language, 4th edition Copyright © 2010 by Houghton Mifflin Harcourt Publishing Company. Published by Houghton Mifflin Harcourt Publishing Company. All rights reserved.
---
bog - Science Definition
An area of wet, spongy ground consisting mainly of decayed or decaying peat moss (sphagnum) and other vegetation. Bogs form as the dead vegetation sinks to the bottom of a lake or pond, where it decays slowly to form peat. Peat bogs are important to global ecology, since the undecayed peat moss stores large amounts of carbon that would otherwise be released back into the atmosphere. Global warming may accelerate decay in peat bogs and release more carbon dioxide, which in turn may cause further warming.