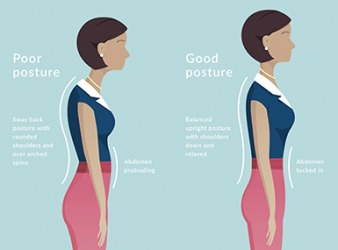 A good technique to correct a slump is to roll the shoulders in a circular motion then relax them down and back.
noun
The definition of a slump is a sudden decline, or is a long period of decline and loss.

When stock market quotes are down for a long period of time, this is an example of a market slump.
verb
To slump is to experience a sudden decline or to slouch over.

When a sports team loses two games, this is an example of a situation where they slump to a 0-2 record.
When you throw yourself into a chair and slouch into the cushions, this is an example of a situation where you slump in your chair.
---
slump
to fall, sink, or collapse, esp. suddenly or heavily
to decline suddenly, as in value, activity, etc.
to have a drooping posture or gait
Origin of slump
probably from or akin to Middle Low German
slumpen
, to come about by accident: for Indo-European base see limp
a sudden or sharp fall
a decline in business activity, prices, etc.
a drooping posture or gait
an extended period during which a player, team, worker, etc. is below normal in performance
---
slump
intransitive verb
slumped, slump·ing, slumps
To fall or sink heavily; collapse: She slumped, exhausted, onto the sofa.
To droop, as in sitting or standing; slouch.

a. To decline suddenly; fall off: Business slumped after the holidays.

b. To perform poorly or inadequately: The team has been slumping for a month.

a. To sink or settle, as into mud or slush.

b. To slide down or spread out thickly, as mud or fresh concrete.
noun
The act or an instance of slumping.
A drooping or slouching posture: read defeat in the slump of his shoulders.
A sudden falling off or decline, as in activity, prices, or business: a stock market slump; a slump in farm prices.
An extended period of poor performance, especially in a sport or competitive activity: a slump in a batting average.
See grunt.
Origin of slump
Probably of Scandinavian origin
Norwegian
slumpa
to slump
---
slump

Verb
(third-person singular simple present slumps, present participle slumping, simple past and past participle slumped)
(intransitive) To collapse heavily or helplessly.

Exhausted, he slumped down onto the sofa.

(intransitive) To decline or fall off in activity or performance.

Real estate prices slumped during the recession.

To lump; to throw together messily.
To fall or sink suddenly through or in, when walking on a surface, as on thawing snow or ice, a bog, etc.
Noun
(plural slumps)
A heavy or helpless collapse; a slouching or drooping posture; a period of poor activity or performance, especially an extended period.
(Scotland, UK, dialect) A boggy place.
(Scotland) The noise made by anything falling into a hole, or into a soft, miry place.
---