dive

di·ve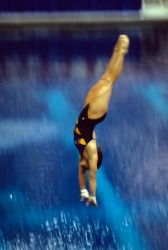 A swimmer diving into the water.
noun
The definition of a dive is a headfirst jump, a quick drop, or a cheap or run-down place.

An example of a dive is a headfirst plunge into water.
An example of a dive is a fast descent of an airplane.
An example of a dive is a bar with lots of crime occurring in it.
verb
Dive is defined as to jump head first into water, submerge or plunge into a situation.

An example of dive is to jump into a new relationship very quickly.
---
dive
intransitive verb
dived

or

dove

,

dived

,

div′ing
to plunge headfirst into water
to go underwater; submerge, as a submarine or skin diver
to plunge the hand or body suddenly into something: to dive into a foxhole
to bring oneself zestfully or with abandon into something: to dive into one's work
to make a steep, sudden descent or take a sudden drop, as an airplane
Origin of dive
Middle English
diven
from Old English
dyfan
, to immerse, causative of
dufan
, to dive, akin to Old Norse
d?fa
, to plunge,
d?fa
, a wave from Indo-European base an unverified form
dheup-
, deep
to cause to dive; specif., to send (one's airplane) into a dive

Archaic

to explore or penetrate by or as by diving
a plunge into water headfirst; esp., any of various formalized plunges performed as in a competition
any sudden plunge or submersion
a sharp descent or sudden drop, as of an airplane

Informal

a cheap, disreputable saloon, gambling place, etc.

Football

a play in which a running back carries the ball while plunging directly into the line a short distance away
take a dive
Slang
to lose a prizefight purposely by pretending to get knocked out
---
dive
verb
dived,
or
dove
dived, div·ing, dives
verb
intransitive
a. To plunge, especially headfirst, into water.

b. To execute a dive in athletic competition.

c. To participate in the sport of competitive diving.

a. To go toward the bottom of a body of water: We dove down to check the anchor.

b. To engage in the sport of scuba diving.

c. To submerge under power. Used of a submarine.

a. To fall head down through the air.

b. To descend nose down at an acceleration usually exceeding that of free fall. Used of an airplane.

c. To engage in the sport of skydiving.

To drop sharply and rapidly; plummet: Stock prices dove 100 points in a single day of trading.

a. To rush headlong and vanish into something: The fugitive dove into the crowd and escaped.

b. To plunge one's hand into something: dove into the cookie jar.

To lunge or leap headfirst: dove for the loose ball.
To plunge into an activity or enterprise with vigor and gusto.
Sports To exaggerate a fall in an attempt to induce a referee to call a penalty on an opponent.
verb
transitive
To cause (an aircraft, for example) to dive.
To go scuba-diving to or along: We dove that reef last week.
noun
a. A plunge into water, especially done headfirst and in a way established for athletic competition.

b. The act or an instance of going under water, as of a submarine or a skin diver.

c. A nearly vertical descent at an accelerated speed through the air.

A rapid or abrupt decrease: Stock prices took a dive.

a. Slang A disreputable or run-down bar or nightclub.

b. A run-down residence.

Sports

a. A knockout feigned by a prizefighter: The challenger took a dive.

b. An exaggerated fall, especially by a hockey player, intended to draw a penalty against an opponent.

a. A lunge or a headlong jump: made a dive to catch the falling teacup.

b. Football An offensive play in which the carrier of the ball plunges into the opposing line in order to gain short yardage.
Origin of dive
Middle English
diven
from
Old English
défan
to dip,
and from
dūfan
to sink
; see
dheub-
in Indo-European roots.
Usage Note: Either dove or dived is acceptable as the past tense of dive. In our 2008 survey 92 percent of the Usage Panel accepted dove and 72 percent accepted dived in the sentence. Keeping their New Year's Day tradition, the L Street Brownies dove/dived into Dorchester Bay this morning. This may seem odd considering that dived is actually the older form. In fact, the emergence of dove runs against the general tendency of change in English verb forms. Old English had two classes of verbs: strong verbs, whose past tense was indicated by a change in their vowel (a process that survives in such present-day English verbs as drive/drove and fling/flung ); and weak verbs, whose past was formed with a suffix related to -ed in Modern English (as in present-day English live/lived and move/moved ). Dive comes from one of these weak verbs. Since the Old English period, many verbs have changed from the strong pattern to the weak one; for example, the past tense of step, formerly stop, became stepped. Over the years, in fact, the weak pattern has become so prevalent that we use the term regular to refer to verbs that form their past tense by suffixation of -ed. However, there have occasionally been changes in the other direction: the past tense of wear, now wore, was once werede, and that of spit, now spat, was once spitede. The development of dove is an additional example of the small group of verbs that have swum against the historical tide.
---
dive

Verb
(third-person singular simple present dives, present participle diving, simple past and past participle dived or dove)
To jump into water head-first.
To descend sharply or steeply.
(especially with in) To undertake with enthusiasm.

She dove right in and started making improvements.

(sports) To deliberately fall down after a challenge, imitating being fouled, in the hope of getting one's opponent penalised.
To explore by diving; to plunge into.
(figuratively) To plunge or to go deeply into any subject, question, business, etc.; to penetrate; to explore.
Usage notes
The past tense dove is found chiefly in North American English, where it is used alongside the regular (earlier) dived, with regional variations; in British English dived is the standard past tense, dove existing only in some dialects. As a past participle, dove is relatively rare. (Compare Merriam-Webster Collegiate Dictionary; The American Heritage Dictionary; The Cambridge Guide to English Usage)
Noun
(plural dives)
A swim under water.
A decline.
(sports) A deliberate fall after a challenge.
Origin
From Middle English diven, duven, from the merger of Old English dȳfan ("to dip, immerse", transitive weak verb) (from Proto-Germanic *dūbijaną) and dūfan ("to duck, dive, sink, penetrate", intransitive strong verb) (past participle ġedofen). Cognate with Icelandic dýfa ("to dip, dive"), Low German bedaven ("covered, covered with water"). See also deep, dip.
---