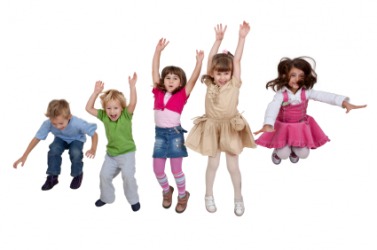 A group of children jump for joy.
verb
Jump is defined as to bounce or spring from the ground or from one surface to another.

An example of jump is hopping over a log.
An example of jump is skydiving.
An example of jump is a mountain biker pulling their bike up to avoid a large rock.
---
jump
to move oneself suddenly from the ground, etc. by using the leg muscles; leap; spring
to be moved with a jerk; bob; bounce
to parachute from an aircraft
to move, act, or react energetically or eagerly: often with at
to move suddenly and involuntarily, as from fright, surprise, etc.
to pass suddenly from one thing or topic to another
to rise suddenly: prices have jumped
to break in continuity of action, as a film image, because of faulty alignment of the film

Slang

to be lively and animated: the party was jumping

Bridge

to make a jump bid

Checkers

to move a piece over an opponent's piece, thus capturing it

Comput.

to continue at an instruction in another part of the program by means of a jump (noun)
Origin of jump
from uncertain or unknown; perhaps
to leap over
to pass over; skip

to cause to leap: to jump a horse over a fence
to advance (a person) to a higher rank or position, esp. by bypassing intervening ranks
to leap upon; spring aboard
to cause (prices, etc.) to rise suddenly
to bypass (an electrical component, esp. a weak battery on a vehicle)

Informal

to attack suddenly as from hiding

Informal

to react to prematurely, in anticipation: to jump a traffic light

Slang

to leave suddenly or without permission: to jump town, jump ship

Bridge

to raise (the bid) by making a jump bid

Checkers

to capture (an opponent's piece) by jumping

Journalism

to continue (a story) on another page
a jumping; leap; bound; spring
a distance jumped
a descent from an aircraft by parachute
a thing to be jumped over or from, as on a ski jump
a sudden transition
a sudden rise, as in prices
a sudden, nervous start or jerk; twitch

Informal

jump-start (noun)
[pl.]

Slang

chorea; also, delirium tremens: usually with the

Athletics

a contest in jumping: the high jump, the long jump

Bridge

jump bid

Checkers

a move by which an opponent's piece is jumped and captured

Comput.

a program instruction that causes an instruction in another part of the program to be the next executed

Journalism

a line telling on, or from, what page a story is continued
designating or of a style of jazz music characterized by recurrent short riffs and a strong, fast beat
of or for parachuting or paratroops
get (or have) the jump on
Informal
to get (or have) an earlier start than and thus have an advantage over
jump a claim
to seize mining rights or land claimed by someone else
jump at
Informal
to accept hastily and eagerly
jump bail
Informal
to forfeit one's bail by fleeing
jump in with both feet
to enter into an activity or venture wholeheartedly
jump off
Mil. Slang
to start an attack
jump on
Slang
to scold; censure severely
jump rope
to exercise or play a game with a jump-rope
jump the track
to go suddenly off the rails
---
jump
verb
jumped, jump·ing, jumps
verb
intransitive
a. To propel oneself upward or over a distance in single quick motion or series of such motions.

b. To move suddenly and in one motion: jumped out of bed.

c. To move involuntarily, as in surprise: jumped when the phone rang.

d. To parachute from an aircraft.

a. Informal To act quickly; hustle: Jump when I give you an order.

b. To take prompt advantage; respond quickly: jump at a bargain.

a. To enter eagerly into an activity; plunge: jumped into the race for the nomination.

b. To begin or start. Often used with off: The project jumped off with great enthusiasm.

To form an opinion or judgment hastily: jump to conclusions.
To make a sudden verbal attack; lash out: jumped at me for being late.

a. To undergo a sudden and pronounced increase: Prices jumped in October.

b. To rise suddenly in position or rank: jumped over two others with more seniority.

To change discontinuously or after a short period: jumps from one subject to another; jumped from one job to another.

a. To be displaced by a sudden jerk: The phonograph needle jumped.

b. To be displaced vertically or laterally because of improper alignment: The film jumped during projection.

Computers To move from one set of instructions in a program to another out of sequence.
Games

a. To move over an opponent's playing piece in a board game.

b. To make a jump bid in bridge.

Slang To be lively; bustle: a disco that really jumps.
verb
transitive
To leap over or across: jump a fence.
To leap onto: jump a bus.
Slang To spring upon in sudden attack; assault or ambush: Muggers jumped him in the park.
To move or start prematurely before: jumped the starting signal.
To cause to leap: jump a horse over a fence.
To cause to increase suddenly: shortages that jumped milk prices by several cents.
To pass over; skip: The typewriter jumped a space.
To raise in rank or position; promote.
Games

a. To move a piece over (an opponent's piece) in a board game, often thereby capturing the opponent's piece.

b. To raise (a partner's bid) in bridge by more than is necessary.

To jump-start (a motor vehicle).
To leave (a course), especially through mishap: The train jumped the rails.
Slang

a. To leave hastily; skip: jumped town a step ahead of the police.

b. To leave (an organization, for example) suddenly or in violation of an agreement: jumped the team and signed with a rival club.

To seize or occupy illegally: jump a mining claim.
Vulgar Slang To have sexual intercourse with.
noun
a. The act of jumping; a leap.

b. The distance covered by a jump: a jump of seven feet.

c. An obstacle or span to be jumped.

d. A structure or course from which a jump is made: built a jump out of snow.

A descent from an aircraft by parachute.
Sports Any of several track-and-field events in which contestants jump.
Informal

a. An initial competitive advantage; a head start: got the jump on the other newspapers.

b. Energy or quickness: "We got off to a slow start. We didn't have any jump, and when we did get things going, we were too far behind" ( John LeClair )

a. A sudden pronounced rise, as in price or salary.

b. An impressive promotion.

A step or level: managed to stay a jump ahead.
A sudden or major transition, as from one career or subject to another.

a. A short trip.

b. One in a series of moves and stopovers, as with a circus or road show.

Games A move in a board game over an opponent's piece.
Computers A movement from one set of instructions to another.

a. An involuntary nervous movement; a start.

b. jumps A condition of nervousness. Often used with the.

A jump-start of a motor vehicle.
Vulgar Slang An act of sexual intercourse.
Phrasal Verbs:
jump out
To be readily noticed:
The misspellings jumped out at me.
Origin of jump
Early Modern English
perhaps imitative of the sound of feet hitting with the ground after jumping
Idiom,
jump the shark
after a 1977 episode of the television series Happy Days in which the character Arthur "the Fonz" Fonzarelli makes a show of bravery by jumping over a shark while on water skis (considered as an improbable and absurd plot incident marking the moment at which the series began to decline)
---
jump

Verb
(third-person singular simple present jumps, present participle jumping, simple past and past participle jumped)
(intransitive) To propel oneself rapidly upward such that momentum causes the body to become airborne.

The boy jumped over a fence.
Kangaroos are known for their ability to jump high.

(intransitive) To cause oneself to leave an elevated location and fall downward.

She is going to jump from the diving board.

To pass by a spring or leap; to overleap.

to jump a stream

(intransitive) To react to a sudden, often unexpected, stimulus (such as a sharp prick or a loud sound) by jerking the body violently.

The sudden sharp sound made me jump.

(intransitive) To employ a move in certain board games where one game piece is moved from one legal position to another passing over the position of another piece.

The player's knight jumped the opponent's bishop.

To move to a position in (a queue/line) that is further forward.

I hate it when people jump the queue.

To attack suddenly and violently.

The hoodlum jumped a woman in the alley.

To engage in sexual intercourse.

The hoodlum jumped a woman in the alley.

To cause to jump.

The rider jumped the horse over the fence.

To move the distance between two opposing subjects.
To increase the height of a tower crane by inserting a section at the base of the tower and jacking up everything above it.
(smithwork) To join by a buttweld.
To thicken or enlarge by endwise blows; to upset.
Noun
(plural jumps)
The act of jumping; a leap; a spring; a bound.
An effort; an attempt; a venture.
(mining) A dislocation in a stratum; a fault.
An instance of propelling oneself upwards.

The boy took a skip and a jump down the lane.

An instance of causing oneself to fall from an elevated location.

There were a couple of jumps from the bridge.

An instance of employing a parachute to leave an aircraft or elevated location.

She was terrified before the jump, but was thrilled to be skydiving.

An instance of reacting to a sudden stimulus by jerking the body.
A jumping move in a board game.

the knight's jump in chess

A button (of a joypad, joystick or similar device) used to make a video game character jump (propel itself upwards).

Press jump to start.

(sports, horses) An obstacle that forms part of a showjumping course, and that the horse has to jump over cleanly.

Heartless managed the scale the first jump but fell over the second.

(with on) An early start or an advantage.

He got a jump on the day because he had laid out everything the night before.
Their research department gave them the jump on the competition.

(mathematics) A discontinuity in the graph of a function, where the function is continuous in a punctured interval of the discontinuity.
(science fiction) An instance of faster-than-light travel, not observable from ordinary space.
Adjective
(comparative more jump, superlative most jump)
(obsolete) Exact; matched; fitting; precise.
Origin
From Middle English jumpen ("to walk quickly, run, jump"), probably of Middle Low German or North Germanic origin, ultimately from Proto-Germanic *gempaną, *gembaną ("to hop, skip, jump"), from Proto-Indo-European *gwʰemb- ("to spring, hop, jump"). Cognate with Old Dutch gumpen ("to jump"), Low German jumpen ("to jump"), Middle High German gumpen, gampen ("to jump, hop") (dialectal German gampen), Danish gumpe ("to jolt"), Swedish gumpa ("to jump"), Danish gimpe ("to move up and down"), Middle English jumpren, jumbren ("to mix, jumble"). Related to jumble.
Noun
(plural jumps)
A kind of loose jacket for men.
(in the plural) A bodice worn instead of stays by women in the 18th century.
---
jump - Computer Definition
---