address

ad·dress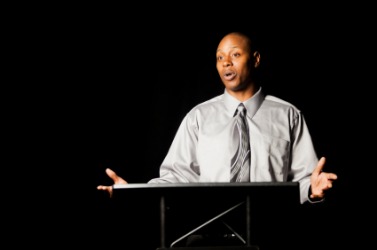 A young man delivers an address.
noun
The definition of an address is a written or verbal statement, or the physical location of something.

An example of an address is the President's Inaugural speech.
123 Main Street, New York, NY 10030 is an example of an address.
verb
Address means to direct a verbal or written statement to someone.

An example of address is the President speaking to the nation about the ending of a war.
---
address
to direct (spoken or written words) to someone
to speak to or write to [to address an audience]: sometimes used reflexively: he addressed himself to both of us
to write the destination on (a letter or parcel)
to use a proper form in speaking to: address the judge as "Your Honor"
to apply (oneself) or direct (one's energies) to something
to deal or cope with; handle (problems, issues, etc.)

to take a stance beside and prepare to hit (a golf ball)
to take a stance before (a target in archery)

Comput.

to store (data) in, or retrieve it from, a specific location in memory

Obs.

to make ready; prepare
Origin of address
Middle English
adressen
, to guide, direct from Old French
adresser
from
a-
, to +
dresser
from Vulgar Latin an unverified form
directiare
, to direct from Classical Latin
dirigere
: see direct
a written or spoken speech, esp. a formal one
the place to which mail, etc. can be sent to someone; place where someone lives or works
the writing on an envelope, parcel, etc. showing its destination
skill and tact in handling situations
conversational manner
[pl.] attentions paid in courting or wooing

Comput.

a number or other code identifying the specific location of stored data in memory or a storage device
a string of keyboard characters serving as an assigned name or designation, as for a network mailbox, a website, etc.
---
address
transitive verb
ad·dressed, ad·dress·ing, ad·dress·es
To speak to: addressed me in low tones.
To make a formal speech to: addressed the union members at the convention.
To call (a person to whom one is speaking) by a particular name or term: Address the judge as "Your Honor."
To direct (a spoken or written message) to the attention of: address a protest to the faculty senate.
To mark with a destination: address a letter.

a. To direct the efforts or attention of (oneself): address oneself to a task.

b. To begin to deal with: addressed the issue of taxes.

To dispatch or consign (a ship, for example) to an agent or factor.
Sports To adjust and aim the club at (a golf ball) in preparing for a stroke.
noun
a. A description of the location of a person or organization, as written or printed on mail as directions for delivery: wrote the address on the envelope.

b. The location at which a particular organization or person may be found or reached: went to her address but no one was home.

a. A name or a sequence of characters that designates an email account or a specific site on the internet or other network.

b. A name or number used in information storage or retrieval assigned to or identifying a specific memory location.

A formal speech or written communication.
Archaic

a. often addresses Courteous attentions.

b. The manner or bearing of a person, especially in conversation.

c. Skill, deftness, or grace in dealing with people or situations: "With the charms of beauty she combined the address of an accomplished intriguer" ( Charles Merivale )
Origin of address
Middle English
adressen
to direct
from
Old French
adresser
from
Vulgar Latin
addīrēctiāre
Latin
ad-
ad-
Vulgar Latin
dīrēctiāre
to straighten
(
from
Latin
dīrēctus
) (
past participle of
dīrigere
to direct
; see
direct
. )
---
address

Noun
(plural addresses)
Direction or superscription of a letter, or the name, title, and place of residence of the person addressed.
Manner of speaking to another; delivery.

a man of pleasing or insinuating address

Attention in the way one addresses a lady.
Skill; skillful management; dexterity; adroitness.
A description of the location of a property.

the President's address is 1600 Pennsylvania Avenue NW in Washington, D.C.

(by extension) The property itself.

I went to his address but there was nobody there

(computing) A location in computer memory.

The program will crash if there is no valid data stored at that address.

(Internet) An Internet address; URL.
Verb
(third-person singular simple present addresses, present participle addressing, simple past and past participle addressed or (obsolete) addrest)
, John Dryden

Turnus addressed his men to single fight.

, Jeremy Taylor

The five foolish virgins addressed themselves at the noise of the bridegroom's coming.

(reflexive) To prepare oneself; to apply one's skill or energies (to some object); to betake.
To direct, as words (to any one or any thing); to make, as a speech, petition, etc. (to any one, an audience).

He addressed some portions of his remarks to his supporters, some to his opponents.

To direct speech to; to make a communication to, whether spoken or written; to apply to by words, as by a speech, petition, etc., to speak to; to accost.
To direct in writing, as a letter; to superscribe, or to direct and transmit.

He addressed a letter.

To consign or intrust to the care of another, as agent or factor.

The ship was addressed to a merchant in Baltimore.

To address oneself to; to prepare oneself for; to apply oneself to; to direct one's speech or discourse to.
(formal) To direct attention towards a problem or obstacle, in an attempt to resolve it.
(intransitive, computing) To refer a location in computer memory.
Usage notes
The intransitive uses can be understood as omission of the reflexive pronoun.
Origin
From Middle English adressen ("to raise erect, adorn"), from Old French adrecier ("to straighten, address") (modern French adresser), from a- (Latin ad ("to")) + drecier (modern French dresser ("to straighten, arrange")) < Vulgar Latin *directiāre, from Latin directus ("straight or right"), from the verb dīrigĕre, itself from regĕre ("to govern, to rule").
---
address - Computer Definition

The coded representation of the physical or logical location of a source or destination resource, such as a register, a memory partition, an application, or a node or station. An address may be contained in an address field associated with a data unit, such as a block, cell, frame, or packet, in order that switches, routers, and other devices can forward the data unit to the destination device across a network. Alternatively, an address might be used to set up a path between originating and destination devices, such as voice telephone sets, to connect a call. A PSTN telephone number, for example, is a logical address associated with a physical port on a physical central office (CO) switch connected to a physical copper circuit terminating in a physical device such as a PBX, key system, or telephone set at a fixed physical location. A cellular telephone number is a logical address associated with a physical station that typically is mobile, perhaps across networks. An Internet Protocol (IP) address is a logical address associated with a data terminal or other physical network element that may be either fixed in location or mobile, perhaps across networks. See also E.164, IP address, logical, and physical.
---
(1) The number of a particular memory or peripheral storage location. Like post office boxes, each byte of memory and each disk sector has its own unique address. Programs are compiled into machine language, which references actual addresses in the computer.
(2) As a verb, to manage or work with. For example, "the computer can address 16GB of memory."
(3) The location of a website or other Internet facility. See URL, IP address and address bar.
---