plead
plead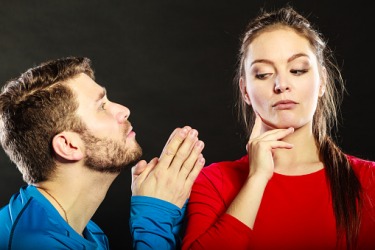 A man begging for forgiveness.
verb
To plead is defined as to beg or to respond to a charge of a crime.

An example of plead is to beg someone for forgiveness.
An example of plead is for someone to say he is not guilty of a crime.
---
plead
plead′ed

,

plead′ing
to present a case in a law court; argue the case of either party
to present a plea (sense )

to make an earnest appeal; supplicate; beg: to plead for mercy
Origin of plead
Middle English
pleden
; from Old French
plaidier
; from
plaid:
see plea
to discuss or defend (a law case) by argument
to declare oneself to be (guilty or not guilty) in answer to a charge
to offer as an excuse or defense: to plead ignorance
---
plead
verb
plead·ed
or
pled
,
or
plead
,
plead·ing
,
pleads
verb
, intransitive
To appeal earnestly; beg: plead for more time.
To offer reasons for or against something; argue earnestly: plead against a bill.
To provide an argument or appeal: Your youth pleads for you in this instance.
Law To respond to a criminal charge: plead guilty.
verb
, transitive
To assert as defense, vindication, or excuse; claim as a plea: plead illness as the reason for his absence.
Law

a. To specify (a cause of action or defense): plead a First Amendment claim.

b. To set forth in a pleading: plead that plaintiff suffered damages as a result of the breach of contract.
Origin of plead
Middle English
pleden, plaiden
, from Old French
plaidier
, from Medieval Latin
placitare
,
to appeal to the law
, from Late Latin
placitum
,
decree, opinion
; see
plea
.
Related Forms:
Usage Note:
In strict legal usage, one is said to
plead guilty
or
plead not guilty
but not to
plead innocent.
In nonlegal contexts, however,
plead innocent
is well established. • The Usage Panel prefers the past tense
pleaded
over
pled
outside of legal contexts. In our 2008 survey, the entire Panel found
pleaded
acceptable in
He pleaded with me to give him the part,
in contrast to 60 percent who accepted the same sentence using
pled,
and only 38 who found
pled
completely acceptable in this use.
---
plead
Verb
(third-person singular simple present pleads, present participle pleading, simple past and past participle pled (North America, Scotland) or pleaded (England))
To present an argument, especially in a legal case.

The defendant has decided to plead not guilty.

To beg, beseech, or implore.

He pleaded with me not to leave the house.
Origin
From Middle English pleden, plaiden, from Old French plaider ("to plead, offer a plea"), from plait, from Medieval Latin placitum ("a decree, sentence, suit, plea, etc.", in Classical Latin, "an opinion, determination, prescription, order; literally, that which is pleasing, pleasure"), neuter of placitus, past participle of placere ("to please").
---
plead - Legal Definition
v
To make a plea of "guilty" or "not guilty" in court in response to a criminal charge; to file a pleading; to answer a plaintiff's common law declaration.
---