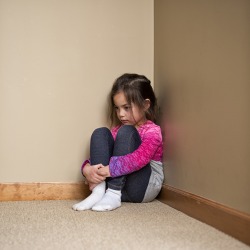 The mom punished her daughter for talking back and made her sit in the corner to think about her actions.
verb
Punish is to impose suffering or penalty, or to treat someone in an harsh manner.

When you make your child stand in the corner for doing something bad, this is an example of when you punish your child.
When a tax cut ends up costing the middle class money, this is an example of when tax cuts punish the middle class.
---
punish
to cause to undergo pain, loss, or suffering for a crime or wrongdoing
to impose a penalty on a wrongdoer for (an offense)
to treat harshly or injuriously: the punishing rays of the sun
Origin of punish
Middle English
punischen
from extended stem of Old French
punir
from Classical Latin
punire
, to punish from
poena
, punishment, penalty: see penal
---
punish
verb
pun·ished, pun·ish·ing, pun·ish·es
verb
transitive
To subject to a penalty for an offense, sin, or fault.
To inflict a penalty for (an offense).
To handle or use roughly; damage or hurt: My boots were punished by our long trek through the desert.
verb
intransitive
To exact or mete out punishment.
Origin of punish
Middle English
punissen, punishen
from
Old French
punir
puniss-
from
Latin
poenīre, pūnīre
from
poena
punishment
from
Greek
poinē
; see
kwei-
1
in Indo-European roots.
Related Forms:
---
punish

Verb
(third-person singular simple present punishes, present participle punishing, simple past and past participle punished)
To cause to suffer for crime or misconduct, to administer disciplinary action.
To cause great harm to. (a punishing blow)
To dumb down severely or to the point of uselessness or near-uselessness.
---