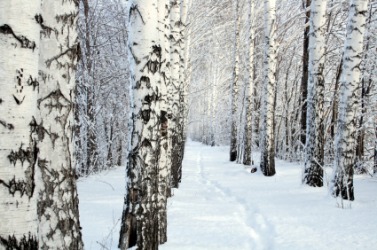 Birch trees in winter.
---
birch definition by Webster's New World
noun
any of a genus (Betula) of trees and shrubs of the birch family, having smooth bark easily peeled off in thin sheets, and hard, closegrained wood: found in northern climates
the wood of any of these trees
a birch rod or bunch of twigs used for whipping
Origin: Middle English birche ; from Old English beorc ; from Indo-European base an unverified form bhereĝ-, to gleam, white from source bright
transitive verb
to beat with a birch
adjective
designating a family (Betulaceae, order Fagales) of dicotyledonous shrubs and trees, including the hazels, alders, and hornbeams
of birch
Webster's New World College Dictionary Copyright © 2010 by Wiley Publishing, Inc., Cleveland, Ohio. Used by arrangement with John Wiley & Sons, Inc.
---
birch definition by American Heritage Dictionary
noun
a. Any of various deciduous trees or shrubs of the genus Betula, native to the Northern Hemisphere and having unisexual flowers in catkins, alternate, simple, toothed leaves, and bark that often peels in thin papery layers.

b. The hard, close-grained wood of any of these trees, used especially in furniture, interior finishes, and plywood.

A rod from a birch, used to administer a whipping.
transitive verb
birched
,
birch·ing
,
birch·es
To whip with or as if with a birch.
Origin: Middle English, from Old English birce; see bherəg- in Indo-European roots.
birch
paper birch
Betula papyrifera