noun
Pain is any sort of mental or physical suffering or distress.

An example of pain is the feeling immediately after breaking a bone.
verb
Pain is defined as to hurt or cause suffering.

An example of pain is for intense running to give a person cramps.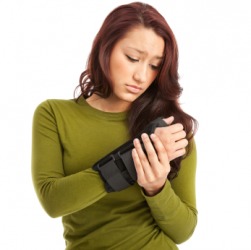 This woman's fracture causes her pain.
---
pain
noun
penalty or punishment: obs. except in , at the risk of bringing upon oneself (punishment, death, etc.)
a sensation of hurting, or strong discomfort, in some part of the body, caused by an injury, disease, or functional disorder, and transmitted through the nervous system
the distress or suffering, mental or physical, caused by great anxiety, anguish, grief, disappointment, etc.
the labor of childbirth
great care or effort: to take pains with one's work

Slang

an annoyance: often used in phrases specifying a part of the body (e.g., )
Origin of pain
Middle English
peine
; from Old French ; from Classical Latin
poena,
penalty, punishment: see penal
transitive verb
to cause to suffer; hurt; distress
intransitive verb
to have or cause pain
---
pain
noun
a. An unpleasant feeling occurring as a result of injury or disease, usually localized in some part of the body: felt pains in his chest.

b. Bodily suffering characterized by such feelings: drugs to treat pain.

a. Mental or emotional suffering; distress.

b. An instance of this: the pains of humiliation.

pains The pangs of childbirth.
pains Great care or effort: taking pains with one's work.
Informal A source of annoyance; a nuisance: Stuffing all these envelopes is a real pain.
transitive verb
pained
,
pain·ing
,
pains
To cause physical pain to; hurt: My feet really pained me after the hike.
To cause mental or emotional distress to: "It pained him to remember every little thing about her" (John Irving).
Origin of pain
Middle English, from Old French
peine
, from Latin
poena
,
penalty, pain
, from Greek
poinē
,
penalty
; see
kwei-
1
in Indo-European roots.
---
pain
See also disease and illness; injury; remedies.
algogenic
producing pain.
algolagnia
a deriving of sexual pleasure from inflicting or enduring pain.
Cf. masochism, sadism. —algolagnist,

n

. —algolagnic,

adj

.
algometry
measurement of pain by means of an algometer, an instrument for determining sensitivity to pain produced by pressure.
—algometric, algometrical,

adj
.
algophilia
a love of pain.
algophobia
an extreme fear of pain.
Cf. odynophobia
.
audialgesia
otalgia.
brachialgia
pain in the nerves of the upper arm.
cardialgia
a burning or other painful feeling in the stomach or esophagus; heartburn.
cephalalgia
Medicine
.
1.
a pain in the head.
2.
a headache. Also called
cephalgia, cephalodynia
.
coxalgia, coxalgy
pain in the hip joint.
dermatalgia
neuralgia of the skin.
dolorifuge
anything that drives away pain.
gastralgia
pain in the stomach or abdominal region.
hemicrania
1.
Medicine
. a pain or aching on one side of the head.
2.
migraine.
hypalgesia
hypalgia.
hypalgia
a decreased sensibility to pain. Also
hypalgesia.
hyperalgesia
an unusually high sensitivity to pain. —
hyperalgesic,

adj

.
hysterodynia
pain in the uterus.
masochism
1.
Psychiatry.
a condition in which sexual gratification is achieved through suffering physical pain and humiliation, especially inflicted on oneself.
2.
any gratification gained from pain or deprivation inflicted or imposed on oneself.
Cf. sadism. —masochist,

n.

—masochistic,

adj.
odontalgia
Medicine.
a pain in a tooth.
—odontalgic,

adj.
odynophobia
an abnormal fear of pain.
otalgia
Medicine.
an earache.
—otalgic,

adj.
photalgia
pain in the eyes caused by light.
proctalgia
pain in the rectum.
prosopalgia
neuralgia affecting the face.
psychalgia
mental or psychic pain.
rachialgia
pain affecting the spine.
—rachialgic,

adj.
sadism
1.
Psychiatry.
a sexual gratification gained through causing physical pain or humiliation.
2.
any enjoyment in being cruel.
Cf. masochism. —sadist,

n.

—sadistic,

adj.
sadomasochism
Psychiatry.
a condition of disturbed and destructive personality marked by the presence of both sadistic and masochistic traits.
—sado-masochist,

n.

—sadomasochistic,

adj.
Stoicism
an indifference to pleasure or pain.
—stoic,

n., adj.

—stoical,

adj.
synalgia
pain in one part of the body resulting from hurt or injury in another part; referred pain.
uteralgia
pain in the womb or uterus.
zoosadism
sadism directed toward animals.
—zoosadist,

n.

—zoosadistic,

adj.
---
pain
Usage notes
Adjectives often used with "pain": mild, moderate, severe, intense, excruciating, debilitating, acute, chronic, sharp, dull, burning, steady, throbbing, stabbing, spasmodic, etc.
Verb
(third-person singular simple present pains, present participle paining, simple past and past participle pained)
To hurt; to put to bodily uneasiness or anguish; to afflict with uneasy sensations of any degree of intensity; to torment; to torture.

The wound pained him.
Origin
From Old French and Anglo-Norman peine, paine, from Latin poena ("punishment, pain"), from Ancient Greek ποινή (poinê, "bloodmoney, were-gild, fine, price paid, penalty"). Compare German Pein, Dutch pijn, Afrikaans pyn.
---