nag

nag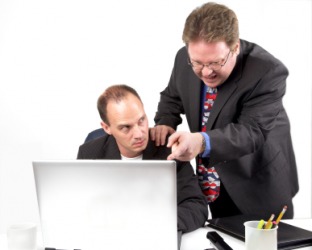 A boss nags his employee.
noun
The definition of a nag is a horse, particularly an old one or one in poor condition, or a person who constantly urges, annoys or scolds.

An example of nag is a former racehorse which has had many injuries.
An example of nag is a wife who constantly reminds her husband of the tasks he has to complete.
verb
Nag is defined as to constantly urge, annoy or scold.

An example of nag is for a parent to constantly ask their son to clean his room.
An example of nag is a constant pain.
---
nag
transitive verb
nagged

,

nag′ging
to annoy by continual scolding, faultfinding, complaining, urging, etc.
to keep troubling, worrying, etc.: nagged by a thought
Origin of nag
from Scandinavian (as in Swedish
nagga
, obsolete Danish
nagge
, to nibble, gnaw, nag) from Old Norse
gnaga
: for Indo-European base see gnaw: for sense development see fret
to urge, scold, find fault, etc. constantly
to cause continual discomfort, pain, etc.: a nagging toothache
a person, esp. a woman, who nags
Archaic

a small saddle horse; pony

Informal

a horse that is worn-out, old, etc.

Slang

a racehorse, esp. an inferior one
Origin of nag
Middle English
nagge
, akin to obsolete Dutch
negghe
from uncertain or unknown; perhaps
---
nag
verb
nagged, nag·ging, nags
verb
transitive
To annoy by constant scolding, complaining, or urging.
To torment persistently, as with anxiety or pain.
verb
intransitive
To scold, complain, or find fault constantly: nagging at the children.
To be a constant source of anxiety or annoyance: The half-remembered quotation nagged at my mind.
noun
One who nags.
Origin of nag
Probably of Scandinavian origin
Old Norse
gnaga
to bite, gnaw
Related Forms:
noun
A horse, especially:

a. An old or worn-out horse.

b. Slang A racehorse.

Archaic A small saddle horse or pony.
Origin of nag
Middle English
nagge
possibly of Low German origin
---
nag

Noun
(plural nags)
A small horse; a pony.
An old useless horse.
Origin
Middle English nagge, cognate with Dutch negge
Verb
(third-person singular simple present nags, present participle nagging, simple past and past participle nagged)
To repeatedly remind or complain to someone in an annoying way, often about insignificant matters.
To act inappropriately in the eyes of peers, to backstab, to verbally abuse.
To bother with persistent memories.

The notion that he forgot something nagged him the rest of the day.

Other sorts of persistent annoyance, e.g.:

A nagging pain in his left knee
A nagging north wind
Noun
(plural nags)
One who nags.
Origin
Probably from a North Germanic source; compare Swedish nagga ("to gnaw, grumble"), Danish nage, Icelandic nagga ("to complain").
---