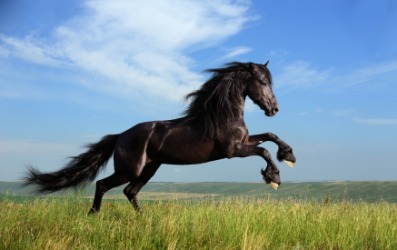 A beautiful black horse in a field.
adjective
Horse means relating to the hoofed creatures of the family Equidae.

An example of horse is a saddle for riding.
noun
The definition of a horse is a creature with hooves that belongs to the family Equidae.

An example of horse is the talking horse, television character Mr. Ed.
verb
Horse is defined as to provide with or ride on a hoofed member of the family Equidae.

An example of horse is to go to the stable and ride one of the animals.
---
horse
noun
pl.

hors′es

or
a domesticated or wild, perissodactylous mammal (Equus caballus), raised in many breeds, having a large body and head, four usually long, thin legs, and a long, flowing tail: horses have been ridden, used to pull loads, etc. since ancient times
the full-grown male of the horse; gelding or stallion
anything like a horse in that a person sits, rides, or is carried on it
a device, esp. a frame with legs, to support something; specif.,

sawhorse
a clotheshorse

a man regarded as resembling a horse, as in having great strength or endurance

Informal, Chess

a knight

Informal

pony (sense )

Slang

horsepower (sense )
[pl.] horsepower (sense )
heroin

Gym.

a padded block on legs, used for vaulting events
[with pl. v.]

Brit., Mil.

mounted troops; cavalry

Mining

a mass of earth or rock inside a vein or coal seam
Origin of horse
Middle English
hors
from Old English
hors, hros
, akin to German
ross
(OHG
hros
), probably from Indo-European base an unverified form
(s)ker-
, to leap (or from uncertain or unknown; perhaps an unverified form
?ers-
, to run from source Classical Latin
cursus
)
transitive verb
horsed

,

hors′ing
to supply with a horse or horses; put on horseback

Informal

to shove; push
to mount or go on horseback
of a horse or horses
mounted on horses
large, strong, or coarse of its kind: horse mackerel
back the wrong horse
to bet on a horse that loses the race
to choose or support the losing side
beat a dead horse
Informal
to argue an issue that is already settled
from the horse's mouth
Informal
from the original or authoritative source of information
hold one's horses
Informal
to curb one's impatience
horse around
Slang
to engage in horseplay
to spend time in pointless or trifling activity
horse of another color
an entirely different matter
on one's high horse
Informal
acting in an arrogant, haughty, or disdainful manner
to horse!
get on your horse! mount!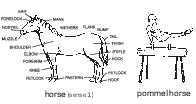 ---
horse
noun
a. A large hoofed mammal (Equus caballus) having a short coat, a long mane, and a long tail, domesticated since ancient times and used for riding and for drawing or carrying loads.

b. An adult male horse; a stallion.

c. Any of various equine mammals, such as the wild Asian species Przewalski's horse or certain extinct forms related ancestrally to the modern horse.

A frame or device, usually with four legs, used for supporting or holding.
Sports A vaulting horse.
Slang Heroin.
often horses Horsepower: a muscle car with 400 horses under the hood.
Mounted soldiers; cavalry: a squadron of horse.
Geology

a. A block of rock interrupting a vein and containing no minerals.

b. A large block of displaced rock that is caught along a fault.
verb
horsed, hors·ing, hors·es
verb
transitive
To provide with a horse.
To haul or hoist energetically: "Things had changed little since the days of the pyramids, with building materials being horsed into place by muscle power" ( Henry Allen )
verb
intransitive
To be in heat. Used of a mare.
adjective
Of or relating to a horse: a horse blanket.
Mounted on horses: horse guards.
Drawn or operated by a horse.
Larger or cruder than others in the same category: horse pills.
Phrasal Verbs:
horse around
Informal
To indulge in horseplay or frivolous activity:
Stop horsing around and get to work.
Origin of horse
Middle English
from
Old English
hors
Old Norse
hross
horse
and
German
Ross
steed
---
horse

Verb
(third-person singular simple present horses, present participle horsing, simple past and past participle horsed)
(intransitive) To frolic, to act mischievously. (Usually followed by "around".)
To provide with a horse.
To sit astride of; to bestride.

(of a male horse) To copulate with (a mare).
To take or carry on the back.
To place on the back of another person, or on a wooden horse, etc., to be flogged; to subject to such punishment.
Origin
From Middle English horse, hors, from Old English hors ("horse"), from Proto-Germanic *hrussą ("horse"), from Proto-Indo-European *ḱr̥sos ("horse"), from Proto-Indo-European *ḱers- ("to run").
Cognate with Scots hors ("horse"), North Frisian hors ("horse"), West Frisian hoars ("horse"), Dutch ros ("horse, steed"), German Ross ("horse, steed"), Swedish russ ("Gotland pony"), Icelandic hross ("horse"), Latin currus ("chariot"), Welsh car ("wagon"). Related to hurry.
Noun
(uncountable)
(uncountable, slang, dated) Heroin.

Alright, mate, got any horse?
Noun
(uncountable)
A poker variant consisting of five different poker variants, with the rules changing from one variant to the next after every hand.
Origin
Initialism of Texas hold 'em, Omaha eight or better, razz, seven card stud, and seven card stud eight or better.
Noun
(uncountable)
Alternative spelling of horse. (variant of basketball)
Origin
From horse, the word used to keep track of missed shots
---