noun
The definition of a yak is a long-haired wilk ox used for milk and meat in Tibet and Asia.

An example of a yak is a Gannan yak.
verb
Yak is defined as to talk.

When a teenage girl gossips, it is an example of yak.
YourDictionary definition and usage example. Copyright © 2013 by LoveToKnow Corp.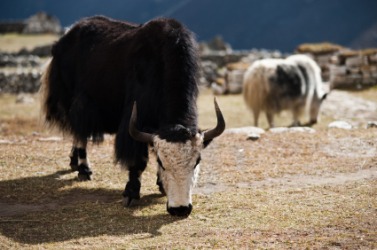 A yak in the Himalayas.
Licensed from iStockPhoto
---
☆
noun
idle or voluble talk

a loud laugh, esp. as audience response to comedy
a joke or comic bit that evokes such a laugh
Webster's New World College Dictionary
Copyright © 2010 by Wiley Publishing, Inc., Cleveland, Ohio.
Used by arrangement with John Wiley & Sons, Inc.
---
noun
A wild, shaggy-haired ox (Bos grunniens) of the mountains of central Asia.
A domesticated yak, used as a work animal or raised for meat and milk.
Origin: Tibetan gyag.
also yack Slang
intransitive verb
yakked
yakked
also
yacked
,
yak·king
also
yack·ing
,
yaks
yaks
also
yacks
To talk persistently and meaninglessly; chatter.
noun
Prolonged, sometimes senseless talk; chatter.
Origin: Imitative.
Related Forms:
The American Heritage® Dictionary of the English Language
, 4th edition Copyright © 2010 by Houghton Mifflin Harcourt Publishing Company. Published by Houghton Mifflin Harcourt Publishing Company. All rights reserved.
yak
Variant of yak