yak

yak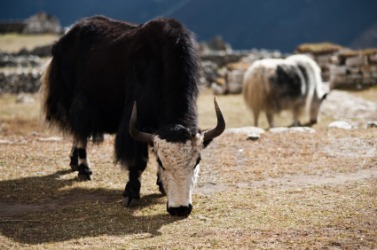 A yak in the Himalayas.
noun
The definition of a yak is a long-haired wilk ox used for milk and meat in Tibet and Asia.

An example of a yak is a Gannan yak.
verb
Yak is defined as to talk.

When a teenage girl gossips, it is an example of yak.
---
yak
noun
pl.

yaks

or
a stocky, long-haired wild ox (Bos grunniens) of Tibet and central Asia, often domesticated as a beast of burden and for its milk, meat, etc.
Origin of yak
from Tibet
g-yag
, male yak
intransitive verb
yakked

,

yak′king
to talk much or idly; chatter
Origin of yak
echoic
idle or voluble talk

a loud laugh, esp. as audience response to comedy
a joke or comic bit that evokes such a laugh
Also, for yakintransitive verb & noun (sense ),
yak′-yak′
or
yak′ety-yak′
---
yak
noun
A wild, shaggy-haired ox (Bos grunniens) of the mountains of central Asia.
A domesticated yak, used as a work animal or raised for meat and milk.
Origin of yak
Tibetan
gyag
also yack Slang
intransitive verb
yakked, yak·king, yaks,
also
yacked
yack·ing
yacks
To talk persistently and meaninglessly; chatter.
noun
Prolonged, sometimes senseless talk; chatter.
Origin of yak
Imitative
Related Forms:
---
yak

Origin
From Tibetan གཡག (g.yag).
Verb
(third-person singular simple present yaks, present participle yakking, simple past and past participle yakked) (intransitive)
To vomit, usually as a result of excessive alcohol consumption.
Usage notes
This is subject to the typically Australian 'have-a-verb' syntactic construction, as in 'I had a yak last night'. But this does not qualify 'yak' to be nominal.
---