noun
The definition of a yak is a long-haired wilk ox used for milk and meat in Tibet and Asia.

An example of a yak is a Gannan yak.
verb
Yak is defined as to talk.

When a teenage girl gossips, it is an example of yak.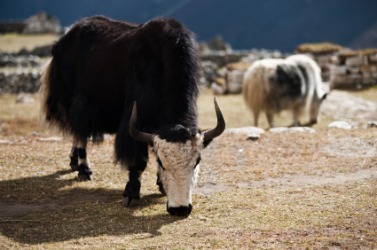 A yak in the Himalayas.
---
yak
☆
noun
idle or voluble talk

a loud laugh, esp. as audience response to comedy
a joke or comic bit that evokes such a laugh
---
yak
noun
A wild, shaggy-haired ox (Bos grunniens) of the mountains of central Asia.
A domesticated yak, used as a work animal or raised for meat and milk.
Origin of yak
Tibetan
gyag
.
---
yak
Verb
(third-person singular simple present yaks, present participle yakking, simple past and past participle yakked) (intransitive)
To talk, particularly informally but persistently, such as chatter.

1960: "You'll like Poppet. Nice dog. Wears his ears inside out. Why do dachshunds wear their ears inside out?" "I could not say, sir." "Nor me. I've often wondered. But this won't do, Jeeves. Here we are, yakking about Jezebels and dachshunds, when we ought to be concentrating our minds [...]" (P. G. Wodehouse, Jeeves in the Offing, chapter XI)

To vomit, usually as a result of excessive alcohol consumption.
Usage notes
This is subject to the typically Australian 'have-a-verb' syntactic construction, as in 'I had a yak last night'. But this does not qualify 'yak' to be nominal.
---
yak
Variant of yak