noun
The definition of a chat is a friendly, casual conversation.

When you and your neighbor have a casual little talk, this is an example of a chat.
When you have an electronic conversation using an instant message service on a computer screen, this is an example of a chat.
verb
To chat is defined as to talk or have a friendly exchange.

When you stop and talk to your neighbor about the weather and your kids, this is an example of a time when you chat with your neighbor.
When you have a conversation with someone on your computer screen using an instant messaging service, this is an example of a chat.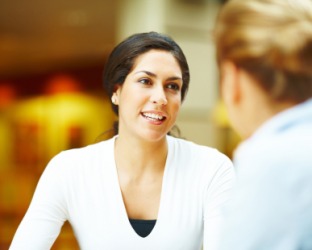 A woman having a chat with her friend.
---
chat definition by Webster's New World
intransitive verb
chatted, chatting
to talk or converse in a light, easy, informal manner

Comput.

to hold an electronic conversation by exchanging typed messages: the messages appear on each participant's computer screen as they are typed
Origin: ; from chatter
noun
small talk; chitchat: a letter filled with chat about books
an easy, informal talk or conversation
any of various passerine birds with a chattering call
☆ any of several songbirds of various families characterized by a chattering song; esp., a yellow-breasted wood warbler (Icteria virens) of North America
noun
an ament or catkin, as of a willow
a samara, as of a maple
a spike, as of plantain
Origin: French ; from Late Latin cattus, cat
Webster's New World College Dictionary Copyright © 2010 by Wiley Publishing, Inc., Cleveland, Ohio. Used by arrangement with John Wiley & Sons, Inc.
---
chat definition by American Heritage Dictionary
intransitive verb
chat·ted
,
chat·ting
,
chats
To converse in an easy, familiar manner; talk lightly and casually.
Computer Science To participate in a synchronous exchange of remarks with one or more people over a computer network.
noun
An informal, light conversation.
Computer Science A synchronous exchange of remarks over a computer network.
Any of several birds known for their chattering call, as of the genera Saxicola or Icteria.
Phrasal Verb:
chat up
To engage (someone) in light, casual talk:
"He would be . . . chatting up folks from Kansas"
(Vanity Fair).
Origin: Middle English chatten, to jabber, alteration of chateren; see chatter.
The American Heritage® Dictionary of the English Language, 4th edition Copyright © 2010 by Houghton Mifflin Harcourt Publishing Company. Published by Houghton Mifflin Harcourt Publishing Company. All rights reserved.
---
chat - Computer Definition
A real-time communication via keyboard between two or more users on a local network (LAN) or over the Internet. Non-verbal, a computer chat is like sending text messages back and forth. Either characters are transmitted after each key is pressed, or all the text is sent when the user presses Enter. The term chat became so pervasive in the computing world that a two-way audio communication is sometimes called a "voice chat," and video calling is often called "video chat." Live Chat for Support Text chat is a common Web site support system, allowing someone to be assisted by a company representative, who typically handles more than one site visitor at a time. Called "live chat," "live help," "live person" or "live support software." Chat Vs. Instant Messaging (IM) Vs. Texting (SMS) Although all three of these services deal with sending and receiving text, chat and IM sessions are on the computer, while texting is done on cellphones. Chat sessions can be initiated by users merely browsing a Web site to interact with a sales or service rep at that very moment, whereas instant messaging (IM) requires installing an IM program, opening an account and sending invitations to recipients. See instant messaging and SMS. Chatting and Texting Since chat is an English word, if someone refers to "chatting and texting" on a cellphone, it means real chatting (voice calling) and sending text messages. See chat room and IRC.
Computer Desktop EncyclopediaTHIS DEFINITION IS FOR PERSONAL USE ONLYAll other reproduction is strictly prohibited without permission from the publisher.© 1981-2014 The Computer Language Company Inc. All rights reserved.
---
chat - Phrases/Idioms
chat up
Chiefly Brit., Informal
to chat with, often, specif., in a flirtatious or seductive way