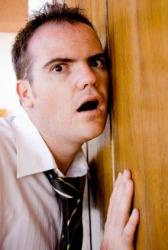 A man trying to listen through a door.
verb
Listen is defined as to make an effort to hear or pay close attention to someone or something.

An example of listen is eavesdropping.
---
listen
to make a conscious effort to hear; attend closely, so as to hear
to pay close attention; take advice
Origin of listen
Middle English
listnen
, felt as frequentative of
listen
(see list) from Old English
hlysnan
(akin to Middle High German
lüsenen
)
Archaic
to pay attention to by listening; hear
listen in
to listen to the conversation of others; esp., to eavesdrop
to listen to a broadcast
listen up!
Informal
listen carefully! give me your attention!
---
listen
intransitive verb
lis·tened, lis·ten·ing, lis·tens
To make an effort to hear something: listen to the radio; listen for the bell that ends class.
To pay attention; heed: "She encouraged me to listen carefully to what country people called mother wit" ( Maya Angelou )
noun
An act of listening: Would you like to give the CD a listen before buying it?
Phrasal Verbs:
listen in
To listen to a conversation between others; eavesdrop.To tune in and listen to a broadcast.
Origin of listen
Middle English
listenen
alteration
(
influenced by
listen
to list, listen
; see
list
4
. )
of
Old English
hlysnan
; see
kleu-
in Indo-European roots.
Related Forms:
---
listen

Verb
(third-person singular simple present listens, present participle listening, simple past and past participle listened)
Usage notes
In English, listen and hear are two primary verbs relating to audial perception. To hear represents automatic or passive perception of sound, while listen generally represents intentional or purposeful use of the sense of hearing. A similar distinction exists between see and watch in English.
Origin
From Middle English listnen, alteration (interpreted as frequentative of listen) from Old English hlysnan, from Proto-Germanic *hlūsinōną (compare Middle High German lüsenen), from *hlusēną (compare Old High German hlosēn), from Proto-Indo-European *ḱlew- ("to hear") (compare Ancient Greek κλαίω (klaiō, "I make known, famous"), Latin clueō ("I am famous"), Lithuanian klausýti, Old Church Slavonic слѹшати (slušati, "to hear"), Sanskrit श्रोषति (śróṣati). Related to loud.
---