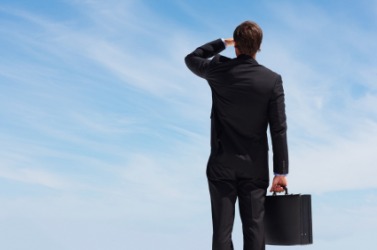 This man appears to be expecting something.
verb
Expect is defined as to look forward to, require or consider due.

An example of expect is thinking someone will be home at a certain time.
An example of expect is bringing an umbrella in preparation for rain.
---
expect
to look for as likely to occur or appear; look forward to; anticipate: I expected you sooner
to look for as due, proper, or necessary: to expect a reward

Informal

to suppose; presume; guess

Obs.

to wait for
Origin of expect
Classical Latin
expectare, exspectare
from
ex-
, out +
spectare
, to look, frequentative of
specere
, to see: see spectacle
---
expect
verb
ex·pect·ed, ex·pect·ing, ex·pects
verb
transitive
a. To look forward to the probable occurrence or appearance of: expecting a phone call; expects rain on Sunday.

b.

To consider likely or certain:

expect to see them soon.

See Usage Note at

anticipate

.

To consider reasonable or due: We expect an apology.
To consider obligatory; require: The school expects its pupils to be on time.
Informal To presume; suppose.
verb
intransitive
To be pregnant. Used in progressive tenses: My wife is expecting again.
Origin of expect
Latin
exspectāre
ex-
ex-
spectāre
to look at
frequentative of
specere
to see
; see
spek-
in Indo-European roots.
Related Forms:
---
expect

---