verb
To wait is defined as to stay or remain in one place until something happens.

An example of to wait is standing in line for movie theater tickets.
An example of to wait is expecting dinner guests to show up at your house who don't show until dessert.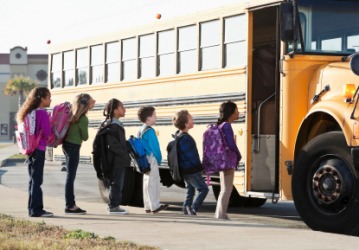 Children wait to get on the bus.
---
wait definition by Webster's New World
intransitive verb
to stay in a place or remain in readiness or in anticipation (until something expected happens or for someone to arrive or catch up)
to be ready or at hand: dinner was waiting for them
to remain temporarily undone or neglected: let that job wait
to serve food at a meal: with at or on: to wait at table, to wait on a person
Origin: Middle English waiten ; from Norman French waitier ; from Frankish an unverified form wahten, to guard, akin to Old High German wahta, a guard, watch: for Indo-European base see wake
transitive verb
to be, remain, or delay in expectation or anticipation of; await: to wait orders, to wait one's turn

Informal

to delay serving (a meal) as in waiting for someone: to wait dinner

Obsolete

to attend upon or escort, esp. as a token of respect or honor

Obsolete

to attend as a consequence
noun
the act or fact of waiting
a period of waiting: a four-hour wait
in England,

any of a group of singers and musicians who go through the streets at Christmastime performing songs and carols for small gifts of money
any tune so performed

Obsolete

a member of a band of musicians formerly employed by a city or town in England to play at entertainments

Obsolete

a watchman
Webster's New World College Dictionary Copyright © 2010 by Wiley Publishing, Inc., Cleveland, Ohio. Used by arrangement with John Wiley & Sons, Inc.
---
wait definition by American Heritage Dictionary
verb
wait·ed
,
wait·ing
,
waits
verb
, intransitive
a.

To remain or rest in expectation:

waiting for the guests to arrive.

See Synonyms at

stay1

.

b. To tarry until another catches up.

To remain or be in readiness: lunch waiting on the table.
To remain temporarily neglected, unattended to, or postponed: The trip will have to wait.
To work as a waiter or waitress.
verb
, transitive
To remain or stay in expectation of; await: wait one's turn.
Informal To delay (a meal or an event); postpone: They waited lunch for us.
To be a waiter or waitress at: wait tables.
noun
The act of waiting or the time spent waiting.
Chiefly British

a. One of a group of musicians employed, usually by a city, to play in parades or public ceremonies.

b. One of a group of musicians or carolers who perform in the streets at Christmastime.
Phrasal Verbs:
wait
on
/upon
To serve the needs of; be in attendance on. To make a formal call on; visit. To follow as a result; depend on. To await:
They're waiting on my decision.
wait out
To delay until the termination of:
wait out a war; waited out the miniskirt craze.
wait up
To postpone going to bed in anticipation of something or someone.
Informal
To stop or pause so that another can catch up:
Let's wait up for the stragglers.
Origin: Middle English waiten, from Old North French waitier, to watch, of Germanic origin; see weg- in Indo-European roots.
The American Heritage® Dictionary of the English Language, 4th edition Copyright © 2010 by Houghton Mifflin Harcourt Publishing Company. Published by Houghton Mifflin Harcourt Publishing Company. All rights reserved.
---
wait - Phrases/Idioms
lie in wait (for)
to wait so as to catch after planning an ambush or trap (for)
wait on
or
wait upon
to act as a servant to
to call on or visit (esp. a superior) in order to pay one's respects, ask a favor, etc.
to result from; be a consequence of
to supply the needs or requirements of (a person at table, a customer in a store, etc.), as a waiter, clerk, etc.

Informal, Dialectal

to wait for; await
wait out
to remain inactive during the course of
wait table
to serve food as a waiter or servant to people at a table
wait up
to put off going to bed until someone expected arrives or something expected happens

Informal

to stop and wait for someone to catch up