waiting

wait·ing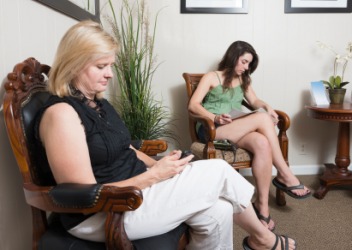 Two women waiting to see their doctor.
adjective
The definition of waiting is someone or something that remains or stays.

An example of waiting used as an adjective is in the phrase "a waiting patient."
noun
Waiting is defined as the process of remaining or staying.

An example of waiting is sitting in a doctor's office for an hour for an appointment.
---
waiting
that waits
of or for a wait
that serves or is in attendance
the act of one that waits
in waiting
in attendance, as on a king or other person of royalty
---
waiting
noun
The act of remaining inactive or stationary.
A period of time spent waiting.
---
waiting

Verb
Present participle of wait.

Your guest has been waiting for you. (progressive)   Waiting for something to happen is part of the job. (gerund)   They hurried into the waiting car. (participle used as adjective)
Noun
(countable and uncountable, plural waitings)
The act of staying or remaining in expectation.
---