noun
The definition of a doing is something being done or the process of getting something done.

An example of doing is completing homework.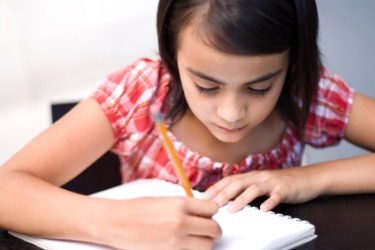 A girl doing her homework.
---
doing definition by Webster's New World
noun
something done

actions, events, etc.

Dialectal

social activities or a social event
Webster's New World College Dictionary Copyright © 2010 by Wiley Publishing, Inc., Cleveland, Ohio. Used by arrangement with John Wiley & Sons, Inc.
---
doing definition by American Heritage Dictionary
noun
Performance of an act: a job not worth the doing.
doings

a. Activities that go on every day: "A motley crew they are, their doings as dark as they are ludicrous" (John Simon).

b. Social events and activities.
doing
Variant of do
transitive verb
did, done, doing
to execute; effect; perform (an act, action, etc.): do great deeds
to carry out; fulfill: do what I tell you

to bring to completion; finish: dinner has been done for an hour
to bring about; cause; produce: it does no harm; who did this to you?
to exert (efforts, etc.): do your best
to have or take (a meal): let's do lunch
to deal with as is required; attend to: do the ironing, do one's nails or hair
to have as one's work or occupation; work at or on: what does he do for a living?
to work out; solve: do a problem
to produce or appear in (a play, etc.): we did Hamlet

to play the role of: I did Polonius

Informal

to imitate, or behave characteristically as: to do a Houdini

to write or publish (a book), compose (a musical score), etc.

to cover (distance): to do a mile in four minutes
to move along at a speed of: to do 60 miles an hour

to visit as a sightseer; tour: they did England in two months
to translate: to do Horace into English
to give; render: to do honor to the dead
to suit; be convenient to: this will do me very well

Informal

to prepare; cook: that restaurant does ribs really well
to eat: let's do Mexican tonight

Informal

to cheat; swindle: you've been done

Informal

to serve (a jail term)

Slang

to take; ingest; use: we've never done drugs

Slang

to perform a sexual act upon; specif., to have sexual intercourse with

Slang

to kill
Origin: Middle English and amp; Old English don, akin to German tun, Old Saxon duan ; from Indo-European base an unverified form dhē-, to put, place, set from source Sanskrit dadhāmi, Classical Greek tithenai, to place, put, Classical Latin -dere (as in condere, to set down), facere, to do, make
intransitive verb
to act in a specified way; behave: he does well when treated well
to be active; work: do; don't merely talk
to finish: used in the perfect tense [have done with dreaming]
to get along; fare: mother and child are doing well
to be adequate or suitable; serve the purpose: the black dress will do
to take place; go on: anything doing tonight?

Chiefly Brit., Informal

used as a substitute verb after a modal auxiliary or a form of have in a perfect tense: I haven't seen the film, but she may have done
auxiliary verb
used to give emphasis, or as a legal convention: do stay a while, do hereby enjoin
used to ask a question: did you write?
used to serve as part of a negative command or statement: do not go, they do not like it
used to serve as a substitute verb: love me as I do (love) you
used to form inverted constructions after some adverbs: little did he realize