work

work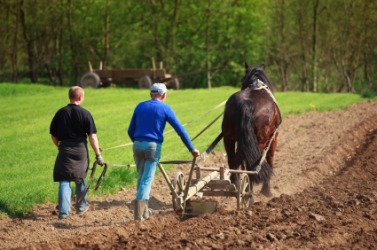 Farmers at work.
adjective
The definition of work is something that relates to a person's job.

An example of work used as an adjective is work shirt, the type of shirt a plumber wears while working, commonly decorated with his company's name and his name stitched above the pocket.
noun
Work is an occupation or something that someone does or has done.

An example of work is a job as an accountant.
An example of work is someone having plumbing done at their house.

Work is physical or mental effort in order to produce or accomplish something.

An example of work is a day spent preparing soil for planting.
verb
Work is defined as to put forth effort in order to accomplish something or to have a job.

An example of work is digging a ditch.
YourDictionary definition and usage example. Copyright © 2018 by LoveToKnow Corp
Link to this page
Cite this page
MLA Style
"work." YourDictionary, n.d. Web. 20 August 2018. <http://www.yourdictionary.com/Work>.
APA Style
work. (n.d.). Retrieved August 20th, 2018, from http://www.yourdictionary.com/Work
---
work
physical or mental effort exerted to do or make something; purposeful activity; labor; toil

employment at a job or in a position
the place where one is employed

occupation, profession, business, trade, craft, etc.

something one is making, doing, or acting upon, esp. as part of one's occupation or duty; task; undertaking: to bring work home from the office
the amount of this: a day's work

something that has been made or done; result of a specific kind of activity or way of working [to have dental work done, skillful brushwork]; specif.,

an act; deed: usually used in pl.: a person of good works
[pl.] collected writings: the works of Poe
[pl.] engineering structures, as bridges, dams, docks, etc.
a fortification
needlework; embroidery
work of art

material that is being or is to be processed, as in a machine tool, in some state of manufacture
[pl., with sing. v.] a place where work is done, as a factory, public utility plant, etc.: often in comb.: steelworks, gasworks
manner, style, quality, rate, etc. of working; workmanship
foam due to fermentation, as in cider
the action of, or effect produced by, natural forces

Mech.

the product of force and the amount of displacement in the direction of that force: it is the means by which energy is transferred from one object or system to another: abbrev. W
[pl.]

Theol.

acts done in compliance with religious laws or duties or aimed at fulfilling religious ideals
Origin of work
Middle English
werk
from Old English
weorc,
akin to German
werk
from Indo-European base an unverified form
wer?-,
to do, act from source Classical Greek
ergon
(for an unverified form
wergon
), action, work,
organon,
tool, instrument
:
work boots
of, for, or used in work
designating or of heavy-duty clothing designed for wear while engaged in manual or outdoor labor
intransitive verb
worked

,

work′ing
to exert oneself in order to do or make something; do work; labor; toil
to be employed

to perform its required or expected function; operate or act as specified
to operate effectively; be effectual: a makeshift arrangement that works

to undergo fermentation
to produce results or exert an influence: let it work in their minds
to be manipulated, kneaded, etc.: putty that works easily
to move, proceed, etc. slowly and with or as with difficulty
to move, twitch, etc. as from agitation: his face worked with emotion
to change into a specified condition, as by repeated movement: the door worked loose
Origin of work
OE
wyrcan, wercan
to cause; bring about; effect: an idea that worked harm
to mold; shape; form: to work silver
to sew, embroider, etc.: to work a sampler
to solve (a mathematical problem, puzzle, etc.)
to draw, paint, carve, etc. (a portrait or likeness)
to manipulate; knead: to work dough
to bring into a specified condition, as by movement back and forth: to work a nail loose
to cultivate (soil)
to cause to function; operate; manage; use: to work a pump
to cause fermentation in
to cause to work: to work a crew hard
to influence; persuade: to work someone around to one's way of thinking
to make (one's way, passage, etc.) by work or effort
to provoke; rouse; excite: to work oneself into a rage
to carry on activity in, along, etc.; cover: a salesman working his territory

to be employed at: work two jobs
to perform duties related to a job during (a particular time) or at (a particular place), etc.: work the night shift, work the ticket counter

Informal

to make use of, esp. by artful contriving: to work one's connections

Informal

to use one's influence, charm, etc. on (a person) to gain some profit or advantage

Slang

to move through (a crowd or room) greeting people, shaking hands, etc.: said esp. of a politician
at work
working or engaged in work
operating: unseen forces were at work on the economy
get the works
to be the victim of extreme measures
give someone the works
to murder someone
to subject someone to an ordeal, either maliciously or jokingly
in the works
Informal
in the process of being planned or done
make short work of
to deal with or dispose of quickly
out of work
without a job; unemployed
shoot the works
Slang
to risk everything on one chance or play
to make a supreme effort or attempt
the works
the working parts or mechanism (of a watch, clock, etc.)

Informal

all possible accessories, extras, etc.
everything that can be included
work in
to introduce or insert
to be introduced or inserted
work off
to get rid of or dissipate, as by exertion
to pay (a debt or obligation) by work rather than with money
work on
to influence
to try to persuade
work out
to make its way out, as from being embedded
to exhaust (a mine, etc.)
work off (sense )
to bring about by work; accomplish
to solve
to calculate
to result in some way: things did not work out as planned
to add up to a total (at a specified amount)
to develop; elaborate
to put into practice
to engage in a training session or program for physical fitness or athletic skill
work over
to work or do again

Informal

to subject to harsh or cruel treatment, as by beating, torture, etc.
work up
to make one's (or its) way up; advance; rise
to manipulate, mix, etc. into a specified object or shape
to develop; elaborate
to acquire knowledge of or skill at
to arouse; excite

Informal

to bring about or cause (a sweat) by vigorous activity
Link to this page
Cite this page
MLA Style
"work." YourDictionary, n.d. Web. 20 August 2018. <http://www.yourdictionary.com/Work>.
APA Style
work. (n.d.). Retrieved August 20th, 2018, from http://www.yourdictionary.com/Work
---
work
noun
a. Physical or mental effort or activity directed toward the production or accomplishment of something: Cleaning the basement was a lot of work.

b. Such effort or activity by which one makes a living; employment: looking for work.

c. A trade, profession, or other means of livelihood: His work is fixing cars.

a. The part of a day devoted to an occupation or undertaking: met her after work.

b. One's place of employment: Should I call you at home or at work?

a. Something that one is doing, making, or performing, especially as an occupation or undertaking; a duty or task: begin the day's work.

b. An amount of such activity either done or required: a week's work.

c. The action or effect of an agency: The antibiotic seems to be doing its work.

a. Something that has been produced or accomplished through the effort, activity, or agency of a person or thing: This scheme was the work of a criminal mastermind. Erosion is the work of wind, water, and time.

b. An act; a deed: "I have seen all the works that are done under the sun; and, behold, all is vanity" ( Ecclesiastes 1:14 )

c. An artistic creation, such as a painting, sculpture, or literary or musical composition, or a creative result of other human activity: an early work of Matisse; a scholarly work of great importance.

d. works The output of a writer, artist, or composer considered or collected as a whole: the works of Bach.

a. works Engineering structures, such as bridges or dams.

b. A fortified structure, such as a trench or fortress.

a. Needlework, weaving, lacemaking, or a similar textile art.

b. A piece of such textile art.

A material or piece of material being processed in a machine during manufacture: work to be turned in the lathe.
works used with a sing. or pl. verb A factory, plant, or similar building or complex of buildings where a specific type of business or industry is carried on. Often used in combination: a steelworks.
works Internal mechanism: the works of a watch.
The manner, style, or quality of working or treatment; workmanship.
Abbr. w Physics The transfer of energy from one physical system to another, especially the application of a force to move a body in a certain direction. It is calculated as the product of the force and the distance over which it is applied and is expressed in joules, ergs, and foot-pounds.
works Moral or righteous acts or deeds: salvation by faith rather than works.
works

a. Informal The full range of possibilities; everything. Used with the: ordered a pizza with the works.

b. Slang A thorough beating or other severe treatment. Used with the: took him outside and gave him the works.
adjective
Of, relating to, designed for, or engaged in work.
verb
worked,
also
wrought
work·ing, works
verb
intransitive
To exert oneself physically or mentally in order to do, make, or accomplish something.
To be employed; have a job.

a. To function; operate: How does this latch work?

b. To function or operate in the desired or required way: The telephone hasn't worked since the thunderstorm.

a. To have a given effect or outcome: Our friendship works best when we speak our minds.

b. To have the desired effect or outcome; prove successful: This recipe seems to work.

To exert an influence. Used with on or upon : worked on her to join the group.
To arrive at a specified condition through gradual or repeated movement: The stitches worked loose.
To proceed or progress slowly and laboriously: worked through the underbrush; worked through my problems in therapy.
To move in an agitated manner, as with emotion: Her mouth worked with fear.
To behave in a specified way when handled or processed: Not all metals work easily.
To ferment.
Nautical

a. To strain in heavy seas so that the joints give slightly and the fastenings become slack. Used of a boat or ship.

b. To sail against the wind.

To undergo small motions that result in friction and wear: The gears work against each other.
verb
transitive
To cause or effect; bring about: working miracles.
To cause to operate or function; actuate, use, or manage: worked the controls; can work a lathe.
To shape or forge: "Each separate dying ember wrought its ghost upon the floor" ( Edgar Allan Poe )
To make or decorate by needlework: work a sampler.
To solve (a problem) by calculation and reasoning.
To knead, stir, or otherwise manipulate in preparation: Work the dough before shaping it.
To bring to a specified condition by gradual or repeated effort or work: finally worked the window open; worked the slaves to death.
To make, achieve, or pay for by work or effort: worked her way to the top; worked his passage on the ship.
Informal To arrange or contrive. Often used with it : worked it so that her weekends are free.
To make productive; cultivate: work a farm.
To cause to work: works his laborers hard.
To excite or provoke: worked the mob into a frenzy.
Informal

a. To gratify, cajole, or enchant artfully, especially for the purpose of influencing: The politician worked the crowd. The comedian worked the room with flawless rhythm.

b. To use or manipulate to one's own advantage; exploit: learned how to work the system; worked his relatives for sympathy.

To carry on an operation or function in or through: the agent who works that area; working the phones for donations.
To ferment (liquor, for example).
Phrasal Verbs:
work in
To insert or introduce:
worked in a request for money.
To make an opening for, as in a schedule:
said the doctor would try to work her in.
To cause to be inserted by repeated or continuous effort.
work into
To insert or introduce into:
worked some childhood memories into his novel.
To make an opening for (someone or something) in:
worked a few field trips into the semester's calendar.
To place or insert in by repeated or continuous effort:
worked the pick into the lock.
work off
To get rid of by work or effort:
work off extra pounds; work off a debt.
work out
To accomplish by work or effort:
worked out a compromise.
To find a solution for; solve:
worked out the equations; worked out their personal differences.
To formulate or develop:
work out a plan.
To discharge (an obligation or debt) with labor in place of money.To prove successful, effective, or satisfactory:
The new strategy may not work out.
To have a specified result:
The ratio works out to an odd number. It worked out that everyone left on the same train.
To engage in strenuous exercise for physical conditioning.To exhaust (a mine, for example).
work over
To do for a second time; rework.
Slang
To inflict severe physical damage on; beat up.
work up
To arouse the emotions of; excite.
a. To increase one's skill, responsibility, efficiency, or status through work: worked up to 30 sit-ups a day; worked up to store manager.
b. To intensify gradually: The film works up to a thrilling climax.
To develop or produce by mental or physical effort:
worked up a patient profile; worked up an appetite.
Origin of work
Middle English
from
Old English
weorc
; see
werg-
in Indo-European roots.
Link to this page
Cite this page
MLA Style
"work." YourDictionary, n.d. Web. 20 August 2018. <http://www.yourdictionary.com/Work>.
APA Style
work. (n.d.). Retrieved August 20th, 2018, from http://www.yourdictionary.com/Work
---
work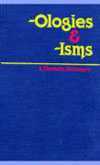 See also occupations; organized labor.
drudgery
dull, laborious, or menial work. —
drudge
,
n.
empleomania
an obsession with public employment.
ergasiophobia
an abnormal fear of work.
ergograph
an instrument that records the amount of work done when a muscle contracts. —
ergographic
,
adj.
ergology
the study of the effect of work on mind and body. —
ergologist
,
n.
ergomania
a mania for work.
ergophile
a person who loves to work.
ergophobia
a hatred of work.
faineance, faineancy
laziness; the state of being idle. —
fainéant
,
adj.
flexitime
a work practice under which workers are able, within certain limits, to choose their own hours of work.
lucubration
1.
laborious work or study, especially when done late at night.
2.
the work, as a book or treatise, produced or apparently produced this way. —
lucubrator
,
n.
operosity
1.
the state or quality of being industrious or busy.
2.
the condition of being toilsome. —
operose
,
adj.
sinecurism
the policy or practice of maintaining an office or position that provides income without demanding any or much work or attendance. Also
sinecureship.
—
sinecure
,
n.
Taylorism
the methods of scientific factory management first introduced in the early 19th century by the American engineer Frederick W. Taylor, especially the differential piece-rate system.
thaasophobia
an abnormal fear or dislike of being idle.
volunteerism
the practice or advocacy of working as a volunteer, often with the hope of thereby gaining paid employment in the same field.
Link to this page
Cite this page
MLA Style
"work." YourDictionary, n.d. Web. 20 August 2018. <http://www.yourdictionary.com/Work>.
APA Style
work. (n.d.). Retrieved August 20th, 2018, from http://www.yourdictionary.com/Work
---
work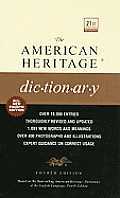 work
labor
toil
1
drudgery
travail
These nouns refer to physical or mental effort expended to produce or accomplish something.
Work
is the most widely applicable:
"Which of us … is to do the hard and dirty work for the rest—and for what pay?"
(John Ruskin).
"A work that aspires … to the condition of art should carry its justification in every line"
(Joseph Conrad).
Labor
usually implies human work, especially of a hard physical or intellectual nature:
"garner the fruits of their own labors"
(Roger Casement).
Toil
applies principally to strenuous, fatiguing labor:
"I have nothing to offer but blood, toil, tears and sweat"
(Winston S. Churchill).
Drudgery
suggests dull, wearisome, or monotonous work:
"the drudgery of penning definitions and marking quotations for transcription"
(Thomas Macaulay).
Travail
connotes arduous work involving pain or suffering:
"prisoners of the splendor and travail of the earth"
(Henry Beston).
Link to this page
Cite this page
MLA Style
"work." YourDictionary, n.d. Web. 20 August 2018. <http://www.yourdictionary.com/Work>.
APA Style
work. (n.d.). Retrieved August 20th, 2018, from http://www.yourdictionary.com/Work
---

English Wiktionary. Available under
CC-BY-SA
license.
Link to this page
Cite this page
MLA Style
"work." YourDictionary, n.d. Web. 20 August 2018. <http://www.yourdictionary.com/Work>.
APA Style
work. (n.d.). Retrieved August 20th, 2018, from http://www.yourdictionary.com/Work
---
work - Computer Definition
That which is the result of labor. A work may be written text of any kind, a graphic image, an audio recording, a video clip, a motion picture, choreography, sculpture, a painting, music, architecture or program source code.
Computer Desktop Encyclopedia
THIS DEFINITION IS FOR PERSONAL USE ONLY All other reproduction is strictly prohibited without permission from the publisher. © 1981-2017 The Computer Language Company Inc. All rights reserved.
Link to this page
Cite this page
MLA Style
"work." YourDictionary, n.d. Web. 20 August 2018. <http://www.yourdictionary.com/Work>.
APA Style
work. (n.d.). Retrieved August 20th, 2018, from http://www.yourdictionary.com/Work
---