leisure

lei·sure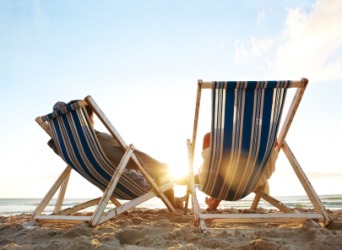 A couple enjoy a time of leisure.
adjective
The definition of leisure is free and unoccupied or loose and casual in terms of clothing.

An example of leisure is hours where no work is required.
An example of leisure is a comfortable sweatsuit.
noun
Leisure is defined as freedom from work, school or other responsibilities and tasks.

An example of leisure is the time after work has ended and all errands for the day have been run.
An example of leisure is a time when one is temporarily released from other compulsory, but unpaid duties, such as child care, home or other maintenance, or personal obligations and matters.
---
leisure
free, unoccupied time, as for indulging in rest, recreation, etc.
Origin of leisure
Middle English
leiser
from Old French
leisir
, substantive use of infinitive , to be permitted from Classical Latin
licere
from Indo-European base an unverified form
leik-
, to offer for sale, bargain
free and unoccupied; spare: leisure time
wealthy, with much leisure for recreation: the leisure class
done or used during one's leisure: leisure activities, leisure wear
at leisure
having free or spare time
with no hurry
not occupied or engaged
at one's leisure
when one has the time or opportunity
---
leisure
noun
Free time when one is not working or attending to other duties.
Relaxation or activities engaged in during such time: the pursuit of leisure.
Origin of leisure
Middle English
from
Norman French
leisour
from
Old French
leisir
to be permitted
from
Latin
licēre
---
leisure

Noun
(countable and uncountable, plural leisures)
Freedom provided by the cessation of activities.
Time at one's command, free from engagement; convenient opportunity; hence, convenience; ease.
Origin
Middle English leisir, from Anglo-Norman leisir, variant of Old French loisir ("to enjoy oneself") (Modern French loisir survives as a noun), substantive use of a verb, from Latin licÄ"re. Displaced native Middle English lethe ("leisure") (from Old English liþian "to unloose, release", compare Old English līþung "permission"), Middle English tom, toom "leisure" (from Old Norse tōm "leisure, ease", compare Old English tōm "free from").
---