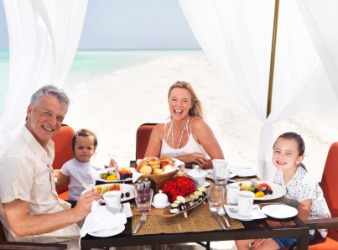 A family on vacation.
noun
Vacation means the time allotted by an employer for an employee to not be present at work.

The time someone takes from work to travel is an example of vacation.

Vacation is defined as taking a break from your regular work or routine to relax.

A restful family trip out of town is an example of a vacation.
---
vacation
freedom from any activity; rest; respite; intermission
a period of rest and freedom from work, study, etc.; time of recreation, usually a specific interval in a year

Rare

the act of making vacant

Law

a formal recess between terms of a court
Origin of vacation
Middle English
vacacion
from Middle French from Classical Latin
vacatio
to take a vacation
to spend one's vacation: to vacation in Maine
---
vacation
noun
A period of time devoted to pleasure, rest, or relaxation, especially one with pay granted to an employee.

a. A holiday.

b. A fixed period of holidays, especially one during which a school, court, or business suspends activities.

The act or an instance of vacating.
intransitive verb
va·ca·tioned, va·ca·tion·ing, va·ca·tions
To take or spend a vacation.
Origin of vacation
Middle English
vacacioun
from
Old French
vacation
from
Latin
vacātiō
vacātiōn-
freedom from occupation
from
vacātus
past participle of
vacāre
to be empty, at leisure
; see
euə-
in Indo-European roots.
Related Forms:
va·ca′tion·er va·ca′tion·eer′

noun
---
vacation

Verb
(third-person singular simple present vacations, present participle vacationing, simple past and past participle vacationed)
(intransitive) To spend or take a vacation.

This year, we're vacationing in Mexico.
Origin
From Middle French vacation, from Latin vacātio.
---