recess

re·cess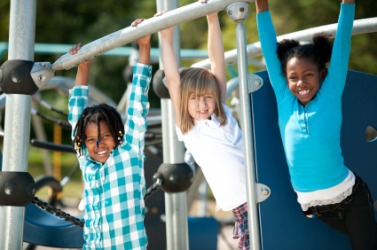 Children playing at school recess.
noun
Recess means a break time.

An example of recess is when Congress is not in session.
An example of recess is when students take a break from school work to play outside.

The definition of a recess is an indentation in a wall or other surface.

An example of a recess is a light fixture that is slightly embedded into the ceiling.
verb
To recess is to take a break.

An example of to recess is to stop a trial for lunch.
---
recess
a receding or hollow place, as in a surface, wall, etc.; niche
a secluded, withdrawn, or inner place: subterranean recesses, the recesses of the subconscious

a temporary withdrawal from or halting as of work, business, or study
in elementary school, a scheduled period of relaxation or play, esp. outdoors

Anat.

a small cavity, hollow, indentation, etc. in an organ or part
Origin of recess
Classical Latin
recessus
from past participle of
recedere:
see recede
to place or set in a recess
to form a recess in
to halt temporarily: to recess a hearing
---
recess
noun
a.

A temporary cessation of the customary activities of an engagement, occupation, or pursuit:

The chairman of the committee called for a recess until Thursday.

See Synonyms at

pause

.

b. A period in the school day during which students are given time to play or relax.

often recesses A remote, secret, or secluded place: a bird that lives deep in the recesses of the forest.

a. An indentation or small hollow: Dirt accumulated in the recesses of the statue.

b. An alcove.
verb
re·cessed, re·cess·ing, re·cess·es
verb
transitive
To place in a recess.
To create or fashion a recess in: recessed a portion of the wall.
To suspend for a recess: The committee chair recessed the hearings.
verb
intransitive
To take a recess: The investigators recessed for lunch.
Origin of recess
Latin
recessus
retreat
from past participle of
recēdere
to recede
; see
recede
1
.
---
recess

Noun
(plural recesses)
(US) A time of play, usually, on a playground.

Students who do not listen in class will not play outside during recess.

(archaic) A withdrawing or retiring; a moving back; retreat.

the recess of the tides

(archaic) The state of being withdrawn; seclusion; privacy.
(archaic) A place of retirement, retreat, secrecy, or seclusion.
A secret or abstruse part.

the difficulties and recesses of science

(botany, zoology) A sinus.
Verb
(third-person singular simple present recesses, present participle recessing, simple past and past participle recessed)
To inset into something, or to recede.

Wow, look at how that gargoyle recesses into the rest of architecture.
Recess the screw so it does not stick out.

(intransitive) To take or declare a break.

This court shall recess for its normal two hour lunch now.
Class will recess for 20 minutes.

(informal) To appoint, with a recess appointment.
To make a recess in.

to recess a wall
Adjective
(obsolete, rare) Remote, distant (in time or place).

Thomas Salusbury: Galileo's Dialogue Concerning the Two Chief World Systems: I should think it best in the subsequent discourses to begin to examine whether the Earth be esteemed immoveable, as it hath been till now believed by most men, or else moveable, as some ancient Philosophers held, and others of not very recesse times were of opinion;
Origin
From Latin recessus.
---