noun
The definition of a bower is an area shaded by trees or other plants, a woman's private dressing room or a country cottage.

An example of bower is an arbor covered with vining flowers.
An example of bower is the room where a bride would get dressed for her wedding.
An example of bower is a small private house where a newly wedded couple would go for their honeymoon.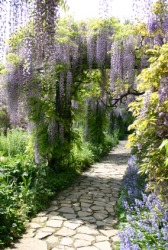 A wisteria bower.
---
bower definition by Webster's New World
noun
a place enclosed by overhanging boughs of trees or by vines on a trellis; arbor

Old Poet.

a rustic cottage or retreat

Archaic

a lady's boudoir
a hut and platform of twigs built by a male bowerbird: used only for courtship and not as a nest
Origin: Middle English bour ; from Old English bur, room, hut, dwelling, akin to German bauer, bird cage: for Indo-European base see bondage
transitive verb
to form into a bower; enclose with boughs, etc.
☆
noun
the jack of trump () or the jack of the other suit of the same color (), the highest card and next highest card, respectively, in euchre
Origin: German bauer, peasant (akin to bower): so called from the figure sometimes used as the jack
noun
the heaviest anchor of a ship, normally carried at the bow
Origin: ; from bow
Webster's New World College Dictionary Copyright © 2010 by Wiley Publishing, Inc., Cleveland, Ohio. Used by arrangement with John Wiley & Sons, Inc.
---
bower definition by American Heritage Dictionary
noun
A shaded, leafy recess; an arbor.
A woman's private chamber in a medieval castle; a boudoir.
A rustic cottage; a country retreat.
transitive verb
bow·ered
,
bow·er·ing
,
bow·ers
To enclose in or as if in a bower; embower.
Origin: Middle English bour, a dwelling, from Old English būr; see bheuə- in Indo-European roots.
Related Forms:
noun
Nautical
An anchor carried at the bow.