nook

nook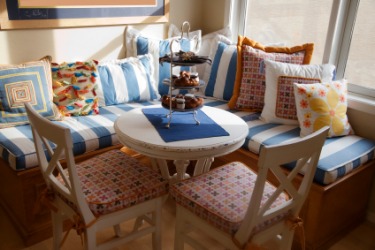 A cozy breakfast nook.
noun
The definition of a nook is a part of a room which is separate from the rest of the room, or a secluded spot.

An example of a nook is a closed-in space for eating breakfast, a "breakfast nook."
An example of a nook is a quiet place for reading.

Nook is defined as a brand of e-reader.

An example of a Nook is the e-reader sold at Barnes and Nobles bookstores.
---
nook
a corner of a room, or a part of a room cut off from the main part: a breakfast nook
a small recess or secluded spot; retreat
Origin of nook
Middle English (chiefly Northern)
nok
, akin to Norwegian
nakke
, a hook, Old Norse
hnekkja
, to hem in, drive back, Old English
hnecca
, the neck
---
nook
noun
A small corner, alcove, or recess, especially one in a large room.
A hidden or secluded spot.
Origin of nook
Middle English
nok
probably of Scandinavian origin
akin to
Norwegian dialectal
nōk
hook
and perhaps to
Middle Low German
ōk, nōk
angled piece of land
---
nook

Noun
(plural nooks)
A small corner formed by two walls; an alcove or recess or ancone.

There was a small broom for sweeping ash kept in the nook between the fireplace bricks and the wall.
Origin
From Middle English noke, nok ("nook, corner, angle"), of uncertain origin. Cognate with Scots neuk, nuk ("corner, angle of a square, angular object"). Perhaps from Old English hnoc, hnocc ("hook, angle"), from Proto-Germanic *hnukkaz, *hnukkô ("a bend"), from Proto-Indo-European *knewg- ("to turn, press"), from Proto-Indo-European *ken- ("to pinch, press, bend"). If so, then also related to Scots nok ("small hook"), Norwegian dialectal nok, nokke ("hook, angle, bent object"), Danish nokke ("hook"), Swedish nocke ("hook"), Faroese nokki ("crook"), Icelandic hnokki ("hook"), Dutch nok ("ridge"), Low German Nocke ("tip"), Old Norse hnúka ("to bend, crouch"), Old English Ä¡ehnycned ("drawn, pinched, wrinkled").
---
nook - Computer Definition
A family of Android-based e-book readers and tablet computers from Barnes & Noble. Introduced in 2009, the monochrome E Ink devices are designed for book reading and extended battery life, which E Ink screens are noted for. The tablets, which feature an LCD color screen, are general-purpose Android devices; however, apps must be obtained from the Barnes & Noble online store. For more information, visit www.barnesandnoble.com. See tablet computer and E Ink.
---