neighbor

neigh·bor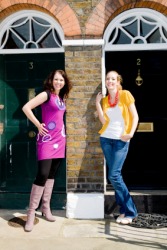 Two neighbors.
adjective
The definition of neighbor is being near another.

An example of neighbor used as an adjective is neighbor state which means a bordering state.
noun
Neighbor is defined as one who lives near someone or something, or refers to any fellow human being.

An example of a neighbor is the person next door.
An example of a neighbor is someone who cooks food for a struggling friend.
verb
Neighbor means to live by or be near.

An example of to neighbor is for the border of New York to touch the border of New Jersey.
---
neighbor
a person who lives near oneself or another; specif., a person who lives in the same neighborhood as oneself or another
a person, country, or thing situated near another
a fellow human being: love thy neighbor
any person: used as a term of direct address
Origin of neighbor
Middle English
neighbour
from Old English
neahgebur
(akin to German
nachbar
) from
neah
(see nigh) +
gebur
, freeholder, peasant from
ge-
, with +
bur
, farmer from
buan
, to live, cultivate, akin to Old Norse
bua
: see bondage
nearby; adjacent: now rare except in the dial. or informal sense of "being a neighbor: chatting with a neighbor lady
to live or be situated near (someone or something)

Rare

to bring near or into close association with
to live or be situated nearby
to have friendly relations; associate on friendly terms (with)
---
neighbor
noun
One who lives near or next to another.
A person, place, or thing adjacent to or located near another.
A fellow human.
Used as a form of familiar address.
verb
neigh·bored, neigh·bor·ing, neigh·bors
verb
transitive
To lie close to or border directly on.
verb
intransitive
To live or be situated close by.
adjective
Situated or living near another: a neighbor state.
Origin of neighbor
Middle English
neighebor
from
Old English
nēahgebūr
nēah
near
gebūr
dweller
; see
bheuə-
in Indo-European roots.
---
neighbor

---