neighborhood
neigh·bor·hood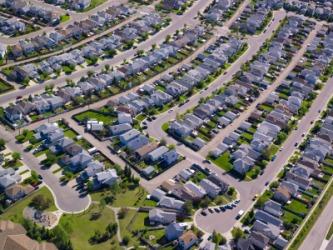 Aerial view of a modern neighborhood.
noun
Neighborhood is defined as a group of houses or buildings that are together in an area or that are grouped together as a unit.

All of the houses in your subdivision are an example of your neighborhood.
---
neighborhood
Archaic

friendly relations, as of neighbors; neighborliness
the state or quality of being neighbors
a community, district, or area, esp. with regard to some characteristic or point of reference: an old neighborhood
the people living near one another: the whole neighborhood attended the block party

Math.

the set of all points which lie within a stated distance of a given point
in the neighborhood of
Informal
near; close to (a place)
about; approximately (the age, amount, etc. specified)
---
neighborhood
noun
A district or area with distinctive characteristics: a neighborhood of fine homes; a working-class neighborhood.
The people who live near one another or in a particular district or area: The noise upset the entire neighborhood.
The surrounding area; vicinity: happened to be in the neighborhood.
Informal Approximate amount or range: in the neighborhood of five million dollars.
Friendliness appropriate to a neighbor: a feeling of neighborhood.
Mathematics The set of points surrounding a specified point, each of which is within a certain, usually small distance from the specified point.
---
neighborhood

Noun
(countable and uncountable, plural neighborhoods)
1835, Edward Bulwer-Lytton, Rienzi, the Last of the Roman Tribunes:

Then the prison and the palace were in awful neighbourhood.

Close proximity, nearby area; particularly, close proximity to one's home.

He lives in my neighborhood.

The inhabitants of a residential area.

The fire alarmed the neighborhood.

A formal or informal division of a municipality or region.

We have just moved to a pleasant neighborhood.

An approximate amount.

He must be making in the neighborhood of $200,000 per year.

(uncountable) The quality of physical proximity.

The slums and the palace were in awful neighborhood.

(topology) An open set which contains the point in question.
(topology) The infinitesimal open set of all points that may be reached directly from a given point; the set of all the vertices adjacent to a given vertex.
(topology) A set containing an open set which contains point in question.
---