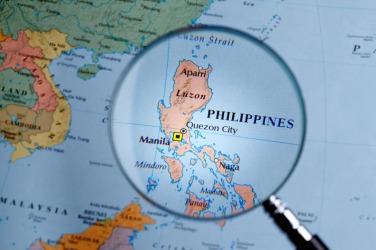 The Philippines is in the region of Southeast Asia.
noun
The definition of a region is a specific area.

The area in your body that is close to your stomach is an example of your stomach region.
The state of California is an example of a state that would be described as being in the Western region of the United States.
---
region
a large and indefinite part of the surface of the earth; district
a division of the world characterized by a specific kind of plant or animal life
an area; place; space
a particular part of the world or universe
an administrative division of a country, as in Italy
a sphere or realm, as of art or science
a division or part of an organism, often called after its main part or organ: the abdominal region
any of the levels used to describe the atmosphere or ocean
Origin of region
Middle English
regioun
from Anglo-French
regiun
from Old French
region
from Classical Latin
regio
from
regere,
to rule: see right
---
region
noun
a. A large, usually continuous segment of a surface or space: the upper regions of the atmosphere.

b. A portion of the earth's surface distinguished from others by some characteristic: the coastal region; the region of storm damage.

c. A bioregion.

d. A political district or unit, often with its adjacent lands: the Osaka region.

An area of the body having natural or arbitrarily assigned boundaries: the abdominal region.
An area of interest or activity; a sphere: the region of gender studies.
An approximate degree or amount: costs in the region of one billion dollars.
Origin of region
Middle English
from
Old French
from
Latin
regiō
regiōn-
from
regere
to rule
; see
reg-
in Indo-European roots.
---
region

---