country

coun·try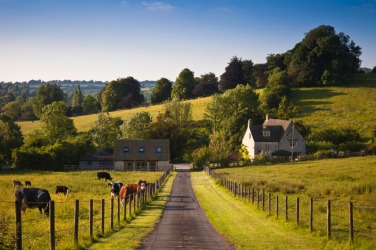 A peaceful country road.
adjective
The definition of country is relating to rural life.

An example of country used as an adjective is the phrase "country food" which means traditional food from farmland areas.
noun
A country is defined as a nation, the people of the nation or land in a rural area.

An example of a country is the United States.
An example of the country is farmlands in Iowa.
---
country
noun
pl.
-·tries
an area of land; region: wooded country
the whole land or territory of a nation or state
the people of a nation or state
the land of a person's birth or citizenship
land with farms and small towns; rural region, as distinguished from a city or town
country music
Origin of country
Middle English
contre
from Old French
contrée
from Vulgar Latin an unverified form
(regio) contrata
, region lying opposite from Classical Latin
contra
: see contra-
of, in, or from a rural district
characteristic of or like that of the country; rustic

Now Dial.

of one's own country; native
---
country
noun
pl.
coun·tries
a. A nation or state.

b. The territory of a nation or state; land.

c. The people of a nation or state; populace: The whole country will profit from the new economic reforms.

The land of a person's birth or citizenship: Foreign travel is restricted in his country.
A region, territory, or large tract of land distinguishable by features of topography, biology, or culture: hill country; Bible country.
An area or expanse outside cities and towns; a rural area: a vacation in the country.
Law

a. The people of a district who are eligible for jury service.

b. A jury.

Informal Country music.
adjective
Of, relating to, or typical of the country: a country road; country cooking.
Of or relating to country music.
Origin of country
Middle English
countre
from
Old French
contree
from
Vulgar Latin
(terra) contrāta
(land) opposite, before
from
Latin
contrā
opposite
; see
kom
in Indo-European roots.
---
country

Noun
(plural countries)
A set region of land having particular human occupation or agreed limits, especially inhabited by members of the same race, language speakers etc., or associated with a given person, occupation, species etc. [from 13th c.]
The territory of a nation, especially an independent nation state or formerly independent nation; a political entity asserting ultimate authority over a geographical area. [from 14th c.]
​(usually preceded by "the") A rural area, as opposed to a town or city; the countryside. [from 16th c.]

1603, John Florio, translating Michel de Montaigne, Essays, II.17:

I was borne and brought up in the Countrie, and amidst husbandry [...].

2000, Alexander Chancellor, The Guardian, 4 Mar 2000:

I have always thought that one of the main reasons for the popularity of blood sports in the country is the pointlessness of going outdoors with no purpose or destination in mind.

Country music. [from 20th c.]
Adjective
(not comparable)
From or in the countryside or connected with it.
Of or connected to country music.
---