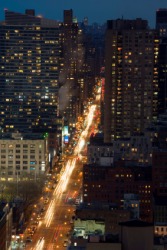 Manhattan is an example of an urban environment.
adjective
The definition of urban is relating to a city or of a city with a population of at least 50,000 people.

An example of urban is the nature of Manhattan.
---
urban
of, in, constituting, or comprising a city or town
characteristic of the city as distinguished from the country; citified
in U.S. census use, designating or of an incorporated or unincorporated place with at least 50,000 inhabitants
of or characteristic of the styles and culture of the inner city, esp. of the black inner city: urban music, fashions, etc.
Origin of urban
Classical Latin
urbanus
from
urbs
, city
---
urban
adjective
Of, relating to, or located in a city.
Characteristic of the city or city life.
Origin of urban
Latin
urbānus
from
urbs
urb-
city
; see
wer-
2
in Indo-European roots.
---
urban

---