rustic

rus·tic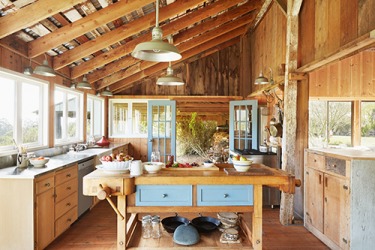 The rustic decor of the farmhouse kitchen suited its rural surroundings.
adjective
The definition of rustic is something simple and plain, and are often associated with the country.

A simple, well-built log cabin is an example of something that would be described as rustic.
---
rustic
of or living in the country, as distinguished from cities or towns; rural
lacking refinement, elegance, polish, or sophistication; specif.,

simple, plain, or artless
rough, awkward, uncouth, or boorish

made of rough, bark-covered branches or roots: rustic furniture

Masonry

having a rough surface or irregular, deeply sunk, deliberately conspicuous joints; rusticated
Origin of rustic
Late Middle English
rustyk
from Middle French
rustique
from Classical Latin
rusticus
from
rus,
the country: see rural
a country person, esp. one regarded as unsophisticated, simple, awkward, uncouth, etc.
---
rustic
adjective
Of, relating to, or typical of country life or country people. See Synonyms at rural.

a. Lacking the refinement or elegance associated with urban life.

b. Charmingly simple or unsophisticated in a manner considered typical of country living.

Made of unfinished or roughly finished wood: rustic furniture.
Having a rough or textured appearance; rusticated. Used of masonry.
noun
A rural person.
A person regarded as unsophisticated, guileless, or coarse from having been raised in the country.
Origin of rustic
Middle English
rustik
from
Old French
rustique
from
Latin
rūsticus
from
rūs
country
; see
reuə-
in Indo-European roots.
Related Forms:
---
rustic

---