natural

nat·u·ral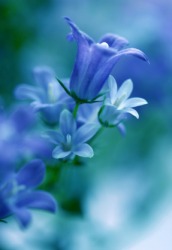 A flower is something that is natural.
adjective
The definition of natural is formed by nature or instincts.

An example of natural is the quality of a flower.
An example of natural is a mother cat's ability to know to nurse her babies.
---
natural
of or arising from nature; in accordance with what is found or expected in nature
produced or existing in nature; not artificial or manufactured
dealing with nature as an object of study: a natural science
in a state provided by nature, without man-made changes; wild; uncultivated
of the real or physical world as distinguished from a spiritual, intellectual, or imaginary world

present by virtue of nature; innate; not acquired
having certain qualities, abilities, etc. innately: a natural athlete

obviously or seemingly right or proper: he is a natural choice to chair the committee
true to nature; lifelike: a natural likeness
normal or usual; in the ordinary course of events: a natural outcome
free from affectation or artificiality; at ease: a natural smile
without a legal relationship; specif.,

illegitimate: a natural child
relating biologically rather than by adoption: natural parents

with little or no processing, artificial ingredients or preservatives: natural food
off-white, light-beige, etc.
resulting from age, disease, etc. rather than an accident, violence, etc.: a natural death, death from natural causes

Biol.

designating or of a system of classification based on complete structure and characteristics

Music

without flats or sharps, as the key of C major
modified in pitch by the sign (?)
neither sharped nor flatted
Origin of natural
Old French from Classical Latin
naturalis
, by birth, according to nature
a person without normal intelligence; fool; idiot

Informal

a person who is or seems to be naturally expert

Informal

a thing that is, or promises to be, immediately successful

Craps

a winning roll of 7 or 11 on a first throw

Music

a sign (?) used to remove the effect of a preceding sharp or flat within the measure in which it occurs
the note so changed
a white key on a piano
---
natural
adjective
Present in or produced by nature: a natural pearl.
Of, relating to, or concerning nature: a natural environment.
Conforming to the usual or ordinary course of nature: a natural death.

a. Not acquired; inherent: Love of power is natural to some people.

b. Having a particular character by nature: a natural leader.

c. Biology Not produced or changed artificially; not conditioned: natural immunity; a natural reflex.

Characterized by spontaneity and freedom from artificiality, affectation, or inhibitions. See Synonyms at naive.
Not altered, treated, or disguised: natural coloring; natural produce.
Faithfully representing nature or life.
Expected and accepted: "In Willie's mind marriage remained the natural and logical sequence to love" ( Duff Cooper )
Established by moral certainty or conviction: natural rights.
Being in a state regarded as primitive, uncivilized, or unregenerate.

a. Related genetically: the natural parents of the child.

b. Born to parents who have never been married to each other: the natural son of the king.

Mathematics Of or relating to positive integers, sometimes including zero.
Music

a. Not sharped or flatted.

b. Having no sharps or flats.
noun
a. One having all the qualifications necessary for success: You are a natural for this job.

b. One suited by nature for a certain purpose or function: She is a natural at mathematics.

Music

a. The sign (♮) placed before a note to cancel a preceding sharp or flat.

b. A note so affected.

A yellowish gray to pale orange yellow.
Games A combination in certain card and dice games that wins immediately.
An Afro hairstyle.
Origin of natural
Middle English
from
Old French
from
Latin
nātūrālis
from
nātūra
nature
; see
nature
.
Related Forms:
---
natural

---
natural - Computer Definition
An earlier fourth-generation language from Software AG, Reston, VA, that ran on a variety of computers from micro to mainframe. See fourth-generation language.
---