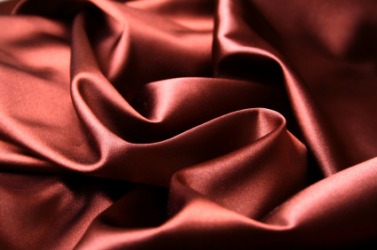 Satin has a smooth texture.
noun
Texture is defined as the physical composition of something, or the look and feel of fabric.

An example of texture is the smooth feeling of satin.
---
texture
Archaic

a woven fabric
the character of a woven fabric as determined by the arrangement, size, quality, etc. of the fabric's threads: coarse texture, twilled texture
the arrangement of the particles or constituent parts of any material or substance as it affects the appearance or feel of the surface; structure, composition, consistency, grain, etc.

the tactile surface quality of a work of art, resulting from the artist's technique
the melodic and harmonic relationships of musical materials

basic structure: the texture of society
Origin of texture
Middle English from Classical Latin
textura
from
texere,
to weave: see technic
transitive verb
-·tured

,

-·tur·ing
to cause to have a particular texture
---
texture
noun
A structure of interwoven fibers or other elements.
The distinctive physical composition or structure of something, especially with respect to the size, shape, and arrangement of its parts: the texture of sandy soil; the texture of cooked fish.

a. The appearance and feel of a surface: the smooth texture of soap.

b. A rough or grainy surface quality: Brick walls give a room texture.

Distinctive or identifying quality or character: "an intensely meditative poet

[who]

conveys the religious and cultural texture of time spent in a Benedictine monastery" ( New York Times )
The quality given to a piece of art, literature, or music by the interrelationship of its elements: "The baroque influence in his music is clear here, with the harmonic complexity and texture" ( Rachelle Roe )
transitive verb
tex·tured, tex·tur·ing, tex·tures
To give texture to, especially to impart desirable surface characteristics to: texture a printing plate by lining and stippling it.
Origin of texture
Middle English
from
Old French
from
Latin
textūra
from
textus
past participle of
texere
to weave
; see
text
.
Related Forms:
---
texture

Noun
(plural textures)
The feel or shape of a surface or substance; the smoothness, roughness, softness, etc. of something.

The beans had a grainy, gritty texture in her mouth.

(art) The quality given to a work of art by the composition and interaction of its parts.

The piece of music had a mainly smooth texture.

(computer graphics) An image applied to a polygon to create the appearance of a surface,
Verb
(third-person singular simple present textures, present participle texturing, simple past and past participle textured)
---