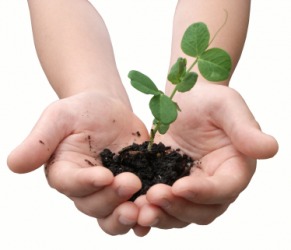 Plants are organic.
adjective
The definition of organic is natural matter or compounds with a carbon base, and also refers to food and meat grown or raised without chemicals or pesticides.

Natural plant matter is an example of something that would be described as organic.
Food grown on a farm where only animal or vegetable fertilizers are used is an example of organic food.
---
organic
of, having the characteristics of, or derived from living organisms
of or involving the basic makeup of a thing; inherent; inborn; constitutional
made up of systematically interrelated parts; organized

Agric.

grown with fertilizers of plant or animal origin, as manure, bone meal, or compost, and without chemical fertilizers or pesticides
characterized by this method: organic farming

Chem.

designating or of any chemical compound containing carbon: some of the simple compounds of carbon, as carbon dioxide, are frequently classified as inorganic compounds
designating or of the branch of chemistry dealing with carbon compounds

Law

designating or of the fundamental, or constitutional, law of a state

Med.

of or having to do with a bodily organ
producing or involving alteration in the structure of an organ: an organic disorder
Origin of organic
Classical Latin
organicus
from Classical Greek
organikos
---
organic
adjective
Of, relating to, or derived from living organisms: organic matter.
Of, relating to, or affecting a bodily organ: an organic disease.

a. Of, marked by, or involving the use of fertilizers or pesticides that are strictly of animal or vegetable origin: organic vegetables; an organic farm.

b. Raised or conducted without the use of drugs, hormones, or synthetic chemicals: organic chicken; organic cattle farming.

c. Serving organic food: an organic restaurant.

d. Simple, healthful, and close to nature: an organic lifestyle.

a. Having properties associated with living organisms.

b. Resembling a living organism in organization or development; interconnected: society as an organic whole.

Constituting an integral part of a whole; fundamental.
Law Denoting or relating to the fundamental or constitutional laws and precepts of a government or an organization.
Chemistry Of or designating carbon compounds.
noun
An organic food or a product made from organic materials.
A substance, especially a fertilizer or pesticide, of animal or vegetable origin.
Chemistry An organic compound.
Related Forms:
---
organic

Adjective
(comparative more organic, superlative most organic)
(biology) pertaining to or derived from living organisms.
pertaining to an organ of the body of a living organism.
of food or food products, grown in an environment free from artificial agrichemicals, and possibly certified by a regulatory body.
(sociology) describing a form of social solidarity theorized by Emile Durkheim that is characterized by voluntary engagements in complex interdepencies for mutual benefit (such as business agreements), rather than mechanical solidarity, which depends on ascribed relations between people (as in a family or tribe).
(military) Of a military unit or formation, or its elements, belonging to a permanent organization (in contrast to being temporarily attached).
(Internet, of search results) Generated according to the ranking algorithms of a search engine, as opposed to paid placement by advertisers.
Noun
(plural organics)
(chemistry) An organic compound
---
organic - Computer Definition
---