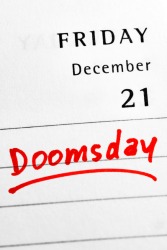 This was a spurious idea.
adjective
The definition of spurious is something that is not true.

An example of spurious is the prediction that the world would end on December 21, 2012.
---
spurious
Now Rare

illegitimate; bastard
not true or genuine; false; counterfeit

Bot.

like in appearance but unlike in structure or function

Radio

designating or of an unwanted signal transmitted or received at other than the desired frequency
Origin of spurious
Classical Latin
spurius
, illegitimate (in LL, false), origin, originally , a bastard from Etruscan
---
spurious
adjective
Lacking authenticity or validity in essence or origin; not genuine: spurious poems attributed to Shakespeare.
Not trustworthy; dubious or fallacious: spurious reasoning; a spurious justification.
Archaic Born to unwed parents.
Origin of spurious
From
Late Latin
spurius
from
Latin
illegitimate
probably of Etruscan origin
Related Forms:
---
spurious

Origin
From Late Latin spurius ("illegitimate, bastardly"), from spurcus ("foul, base, low")
---