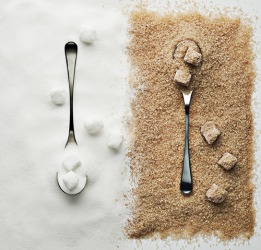 The refined white sugar is on the left, whereas the raw sugar on the right has a tan color.
adjective
The definition of refined is something that is made without impurities, or someone that is elegant.

An example of something refined is white table sugar.
An example of someone refined is a member of the royal family.
---
refined
made free from other matter, or from impurities; purified
free from crudeness or coarseness; cultivated; elegant
characterized by great subtlety, precision, etc.
Origin of refined
past participle of refine
---
refined
adjective
Free from coarseness or vulgarity; polite.
Free of impurities; purified.
Precise to a fine degree.
---
refined

Adjective
(comparative more refined, superlative most refined)
Showing or having good feelings or good taste.

Ozzie and Harriet are refined people.

An absence of coarseness.
Not vulgar.
Without impurities.

The sugar was refined, not gritty.
Verb
Simple past tense and past participle of refine.

The raw petroleum was refined into kerosene.
---