adjective
The definition of elegant is someone or something luxurious in a restrained manner or something that is very well-thought through yet simple.

An example of elegant is a white tablecloth restaurant that serves many courses with wine pairings.
An example of elegant is an easy solution to a very difficult situation.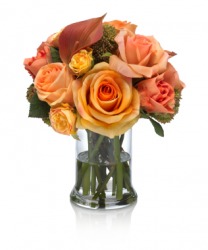 An elegant floral bouquet.
---
elegant definition by Webster's New World
adjective
characterized by dignified richness and grace, as of design, dress, style, etc.; luxurious or opulent in a restrained, tasteful manner
characterized by a sense of propriety or refinement; impressively fastidious in manners and tastes
marked by concision, incisiveness, and ingenuity; cleverly apt and simple: an elegant solution to a complex problem

Informal

excellent; fine; first-rate
Origin: French élégant ; from Classical Latin elegans present participle of an unverified form elegare ; from e-, out plush an unverified form legare, variant, variety of legere, to choose: see logic
Webster's New World College Dictionary Copyright © 2010 by Wiley Publishing, Inc., Cleveland, Ohio. Used by arrangement with John Wiley & Sons, Inc.
---
elegant definition by American Heritage Dictionary
adjective
Characterized by or exhibiting refined, tasteful beauty of manner, form, or style. See Synonyms at
delicate
.
Origin: Middle English, from Old French, from Latin ēlegāns, ēlegant-, present participle of *ēlegāre, variant of ēligere, to select; see elect.
Related Forms: