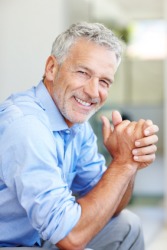 A handsome man.
adjective
The definition of handsome is someone (especially a man) who is good looking, something well made, or something substantial or generous.

An example of handsome is an attractive male actor.
An example of handsome is a woman who is good looking but not necessarily pretty.
An example of handsome is a beautiful and well-made coat.
An example of handsome is a very large donation to charity.
---
handsome
adjective
-·somer

,

-·som·est
Now Rare

moderately large
large; impressive; considerable: a handsome sum

generous; magnanimous; gracious: a handsome gesture
good-looking; of pleasing appearance: said esp. of attractiveness that is manly, dignified, or impressive rather than delicate and graceful: a handsome lad, a handsome antique desk
Origin of handsome
origin, originally , easily handled, convenient from Middle English
handsom
: see hand and -some
---
handsome
adjective
hand·som·er, hand·som·est
a. Pleasing in form or appearance, especially having strong or distinguished features: a handsome man; a woman with a handsome face.

b.

Having stately or attractive proportions or appearance; impressive:

a handsome manor; a sleek, handsome car.

See Synonyms at

beautiful

.

Large in amount or measure; generous or considerable: a handsome reward; won by a handsome margin.
Marked by or requiring skill or dexterity: did some handsome maneuvers on the skating rink.
Appropriate or fitting: a handsome location for the new school.
Origin of handsome
Middle English
handsom
handy
hand
hand
(
from
Old English)
-som
n. suff.
; see
-some
1
.
Related Forms:
---
handsome

Adjective
(comparative more handsome or handsomer, superlative most handsome or handsomest)
Edmund Spenser,:

For a thief it is so handsome as it may seem it was first invented for him

(of a man) Agreeable to the eye or to correct taste; having a pleasing appearance or expression; attractive.

a handsome man; a handsome garment, house, tree, horse.

(of a woman) Striking, impressive and elegantly proportioned, though not typically beautiful.
Suitable or fit in action; marked with propriety and ease; graceful; becoming; appropriate.

a handsome style, etc.

Evincing a becoming generosity or nobleness of character; liberal; generous.

Handsome is as handsome does.

Ample; moderately large.
Having a good appearance
Verb
(third-person singular simple present handsomes, present participle handsoming, simple past and past participle handsomed)
(obsolete) To render handsome.
---