adjective
The definition of handsome is someone (especially a man) who is good looking, something well made, or something substantial or generous.

An example of handsome is an attractive male actor.
An example of handsome is a woman who is good looking but not necessarily pretty.
An example of handsome is a beautiful and well-made coat.
An example of handsome is a very large donation to charity.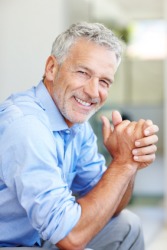 A handsome man.
---
handsome definition by Webster's New World
adjective
Now Rare

moderately large
large; impressive; considerable: a handsome sum

generous; magnanimous; gracious: a handsome gesture
good-looking; of pleasing appearance: said esp. of attractiveness that is manly, dignified, or impressive rather than delicate and graceful: a handsome lad, a handsome chair
Origin: origin, originally , easily handled, convenient ; from Middle English handsom: see hand and amp; -some
Webster's New World College Dictionary Copyright © 2010 by Wiley Publishing, Inc., Cleveland, Ohio. Used by arrangement with John Wiley & Sons, Inc.
---
handsome definition by American Heritage Dictionary
adjective
hand·som·er
,
hand·som·est
Pleasing and dignified in form or appearance. See Synonyms at beautiful.
Generous or copious: a handsome reward. See Synonyms at liberal.
Marked by or requiring skill dexterity: did some handsome maneuvers on the skating rink.
Appropriate or fitting: a handsome location for the new school.
Large: a handsome price; won by a handsome margin.
Origin: Middle English handsom, handy : hand, hand (from Old English) + -som, n. suff.; see -some1.
Related Forms: