hand

hand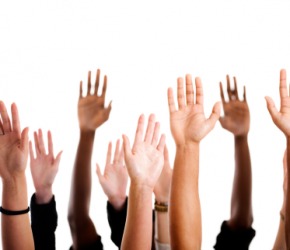 Several raised hands.
noun
The definition of a hand is the part of the human body at the end of the arm.

An example of hand is the part of the body with fingers.

Hand means applause.

An example of giving someone a hand is clapping after a great performance.
verb
To hand is defined as to transfer, deliver or give.

An example of to hand is a runner giving another runner the baton in a relay race, he hands the baton to his teammate.
YourDictionary definition and usage example. Copyright © 2018 by LoveToKnow Corp
Link to this page
Cite this page
MLA Style
"hand." YourDictionary, n.d. Web. 16 August 2018. <http://www.yourdictionary.com/Hand>.
APA Style
hand. (n.d.). Retrieved August 16th, 2018, from http://www.yourdictionary.com/Hand
---
hand
the part of the human body attached to the end of the forearm, including the wrist, palm, fingers, and thumb a corresponding part in some animals; specif.,

any of the four feet in apes, monkeys, etc., used like human hands for grasping and gripping
the end part of the forelimb in many of the higher vertebrates
the pincerlike claw of a crustacean

a side, direction, or position indicated by one hand or the other: at one's right hand
denoting some function or activity of the hand the hand as an instrument for making or producing the hand as a symbol of its grasping or gripping function; specif.,

[pl.] possession: the documents now in his hands
control; power; authority: to strengthen one's hand
[pl.] care; charge; supervision: the matter is in the hands of my lawyer
agency; influence: to see someone's hand in this affair
an active part; share: take a hand in the work

the hand as a symbol of promise; specif.,

a clasp or handshake as a pledge of agreement, friendship, etc.
a promise to marry: he asked for her hand

denoting the manner in which the hand is used skill; ability; dexterity: the work that shows a master's hand manner of doing something: to play the piano with a light hand
denoting something produced by the hand

handwriting
a signature

a clapping of hands; applause: to receive a big hand for one's performance assistance; aid; help: with a: to lend a hand
denoting a person as producing or transmitting with the hands a person whose chief work is done with the hands, esp., one of a staff or crew, as a sailor or a laborer on a farm or ranch a person regarded as having some special skill, expertise, or characteristic: she's quite a hand at sewing a person (or, sometimes, thing) from or through which something comes; source [essays by several hands]: often used with an ordinal number
denoting something like a hand a conventional drawing of a hand (?) used on signposts, etc. an indicator; pointer: the hands of a clock the approximate breadth of the adult human palm, used as a unit of measurement, esp. for the height of horses: now usually taken to be 4 inches

Commerce

a banana cluster
denoting something held in the hand

Card Games

the cards held by a player at any one time
the conventional number of cards dealt to each player
a player
a round of play

a small tied bundle, esp. of tobacco leaves the way cloth held in the hand feels
Origin of hand
Middle English from OE, akin to Gothic
handus
from base of
-hinthan
, to seize (hence, basic sense "grasper") from uncertain or unknown; perhaps Indo-European base an unverified form
kent-
, uncertain or unknown; perhaps to seize
of or for the hand or hands
made by hand
controlled by hand; manual
to pass or give with or as with the hand; transfer; transmit; deliver
to give; provide with: it handed them a laugh
to help, conduct, steady, etc. by means of the hand: to hand a lady into a taxi

Naut.

to furl (a sail)
(at) first hand
from the original source; directly
at hand
near; close by
immediately available
at second hand
not from the original source; indirectly
not new; previously used
by hand
not by machines but with the hands
change hands
to pass from one owner to another
eat out of someone's hand
to be completely dominated by or devoted to someone
force someone's hand
Origin of hand
orig. a whist term
to force someone to act, or declare intentions, before he or she is ready
from hand to hand
from one person's possession to another's
from hand to mouth
with just enough for immediate needs and nothing left over for the future
hand and foot
so that the hands and feet cannot move: bound hand and foot
constantly and diligently: to wait on someone hand and foot
hand down
to give as an inheritance; bequeath
to announce or deliver (a verdict, etc.)
hand in glove
in intimate association; in close agreement or cooperation
hand in hand
holding each other's hand
together; in cooperation or correlation
hand it to
Informal
to give deserved credit to
hand off
Sports
to hand (the ball) to a teammate during a play
hand over fist
Informal
easily and in large amounts
hands off!
don't touch! don't interfere!
hands up!
raise your hands over your head!: an order given by a person pointing a gun, etc.
hand to hand
at close quarters: said of fighting
hand up
to present (an indictment) to a court: said of a grand jury
have one's hands full
to be extremely busy; be doing as much as one can
hold hands
to hold each other's hand, esp. in affection
in hand
in order or control
in possession
being worked on; in process
join hands
to become associates; enter into partnership
to become husband and wife
keep one's hand in
to keep in practice in order to retain one's skill
lay hands on
to attack, injure, or punish physically
to get hold of; seize; take
to place the hands on ceremonially, as in blessing or ordaining
not lift a hand
to do nothing; not even try
off one's hands
no longer in one's care; out of one's responsibility
on every hand
on all sides; in all directions
on hand
near
available or ready
present
on one's hands
in one's care; being one's responsibility
on the other hand
from the opposed point of view
out of hand
out of control
immediately; without preliminaries or delay
over and done with
show one's hand
Origin of hand
orig. with reference to card playing
to disclose one's intentions
take in hand
to take control of or responsibility for
to take up; handle; treat
to try; attempt
throw in one's hand
Informal
to admit defeat; give up: from the act, as by a poker player, of tossing one's hand onto the table to signal withdrawal from a round
tie someone's hands
Informal
to hinder or restrict someone from carrying out an action
to hand
near; accessible
in one's possession
wash one's hands of
to refuse to go on with or take responsibility for: see Matt. 27:24
with a heavy hand
in a heavy manner; without delicacy or grace
with severity or sternness
with a high hand
with arrogance; in an arbitrary or dictatorial manner
with clean hands
without guilt; as an innocent person
Hand
hand-
of, with, by, or for a hand or hands: handclasp, handcuff
Link to this page
Cite this page
MLA Style
"hand." YourDictionary, n.d. Web. 16 August 2018. <http://www.yourdictionary.com/Hand>.
APA Style
hand. (n.d.). Retrieved August 16th, 2018, from http://www.yourdictionary.com/Hand
---
hand
noun
a. The terminal part of the human arm located below the forearm, used for grasping and holding and consisting of the wrist, palm, four fingers, and an opposable thumb.

b. A homologous or similar part in other animals, as the terminal part of the forelimb in certain vertebrates.

A unit of length equal to 4 inches (10.2 centimeters), used especially to specify the height of a horse.
Something suggesting the shape or function of the human hand, especially:

a. Any of the rotating pointers used as indexes on the face of a mechanical clock.

b. A pointer, as on a gauge or dial.

Printing See index.
Lateral direction indicated according to the way in which one is facing: at my right hand.

a. A style or individual sample of writing.

b. A signature: put my hand to the contract.

A round of applause to signify approval.
Physical assistance; help: gave me a hand with the bags.
hands Sports A hand ball in soccer.
Games

a. The cards held in a card game by a given player at any time.

b. The number of cards dealt each player; the deal.

c. A player or participant in a card game: We need a fourth hand for bridge.

d. A portion or section of a game during which all the cards dealt out are played: a hand of poker.

a. One who performs manual labor: a factory hand.

b. One who is part of a group or crew: the ship's hands.

A participant in an activity, often one who specializes in a particular activity or pursuit: an old hand at labor negotiations.

a. The degree of immediacy of a source of information; degree of reliability: heard the scandalous tale at third hand.

b. The strength or force of one's position: negotiated from a strong hand.

a. often hands Possession, ownership, or keeping: The books should be in your hands by noon.

b. Power; jurisdiction; care: The defendant's fate is in the hands of the jury. Dinner is in the chef's hands.

a. Involvement or participation: "In all this was evident the hand of the counterrevolutionaries" ( John Reed )

b. An influence or effect: The manager had a hand in all major decisions.

c. Evidence of craft or artistic skill: can see the hand of a genius even in the lighter poems.

An aptitude or ability: I tried my hand at decorating.
The aesthetic feel or tactile quality of something, such as a fabric, textile, or carpeting, that indicates its fineness, texture, and durability.
A manner or way of performing something: a light hand with makeup.

a. Permission or a promise, especially a pledge to wed.

b. A commitment or agreement, especially when sealed by a handshake; one's word: You have my hand on that.
verb
hand·ed, hand·ing, hands
verb
transitive
To give or pass with or as if with the hands; transmit: Hand me your keys.
To aid, direct, or conduct with the hands: The usher handed the patron to a reserved seat.
Nautical To roll up and secure (a sail); furl.
Sports

a. To give (the ball) directly to a teammate, as in football. Often used with off.

b. To carry, strike, or propel (the ball) with the hand or arm in violation of the rules in soccer.
verb
intransitive
Sports
To make a handoff, as in football. Often used with off.
Phrasal Verbs:
hand down
To bequeath to one's heirs.To make and pronounce (an official decision, especially a court verdict).
hand on
To turn over to another.
hand out
To distribute freely; disseminate.To administer or deal out.
hand over
To release or relinquish to another.
hand up
To deliver (an indictment) to a higher judicial authority.
Origin of hand
Middle English
from
Old English
Related Forms:
hand
A. phalanges
B. metacarpals
C. carpals
Link to this page
Cite this page
MLA Style
"hand." YourDictionary, n.d. Web. 16 August 2018. <http://www.yourdictionary.com/Hand>.
APA Style
hand. (n.d.). Retrieved August 16th, 2018, from http://www.yourdictionary.com/Hand
Initialism
have a nice day
English Wiktionary. Available under
CC-BY-SA
license.
Link to this page
Cite this page
MLA Style
"hand." YourDictionary, n.d. Web. 16 August 2018. <http://www.yourdictionary.com/Hand>.
APA Style
hand. (n.d.). Retrieved August 16th, 2018, from http://www.yourdictionary.com/Hand
---