manual

man·u·al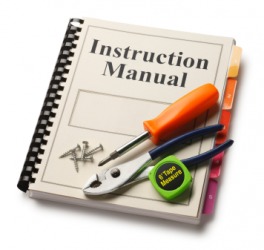 An instruction manual.
adjective
The definition of manual is something done by hand.

An example of manual labor is work you physically do by yourself as opposed to with the use of a machine.
noun
Manual is defined as a guidebook that tells you how to operate something or do something.

An example of manual is the book that comes with your DVD player that tells you how to hook it up and use it.
---
manual
of or having to do with a hand or the hands
made, done, worked, or used by the hands
involving or doing hard physical work that requires use of the hands

without electrical or other power: a manual typewriter

Mech.

designating or of a transmission, specif. an automotive transmission, requiring manual shifting of the gears
Origin of manual
Middle English
manuel
from Old French from Classical Latin
manualis
from
manus
, a hand from Indo-European an unverified form
m?-n-és
(akin to an unverified form
m?tos
from source Germanic an unverified form
mund-
from source Old Norse and Old English
mund,
a hand) from base an unverified form
m?r-, an unverified form m?n-,
hand
a handy book of facts, instructions, etc. for use as a guide or reference; handbook
any of the separate keyboards of an organ console or harpsichord
prescribed drill in the handling of a weapon, esp. a rifle
Origin of manual
ME
manuele
< ML
manuale,
manual, service book < LL, case or covering for a book < L
manualis:
see the
adj.
---
manual
adjective
a. Of or relating to the hands: manual skill.

b. Done by, used by, or operated with the hands.

c. Employing human rather than mechanical energy: manual labor.

Of, relating to, or resembling a small reference book.
noun
A small reference book, especially one giving instructions.
Music A keyboard, as of an organ or harpsichord, played with the hands.
A machine operated by hand.

a. A manual transmission.

b. A vehicle having a manual transmission.

Prescribed movements in the handling of a weapon, especially a rifle: the manual of arms.
A maneuver in certain board sports, such as skateboarding, in which all of the board except one end is lifted off the ground, especially when the tip of the board is kept from making contact with the ground.
Origin of manual
Middle English
from
Old French
manuel
from
Latin
manuālis
from
manus
hand
; see
manus
.
Related Forms:
---
manual

---