textbook

text·book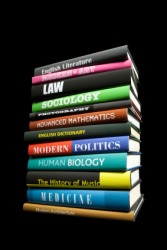 Textbooks on various subjects.
adjective
The definition of textbook is something that is a perfect or classic example.

An example of a textbook case is a standard case of pneumonia.
noun
Textbook means a book used to teach about a subject.

An example of a textbook is a chemistry book used in a 10th grade science class.
---
textbook
a book giving instructions in the principles of a subject of study, specif. one used as the basis or partial basis of a course of study
so typical as to be suitable for inclusion in a textbook; providing a model; classic: a textbook case of medical malpractice
---
textbook
noun
A book used in schools or colleges for the formal study of a subject.
adjective
Being a characteristic example of its kind; classic: a textbook case of schizophrenia.
Related Forms:
---
textbook

Noun
(plural textbooks)
A coursebook, a formal manual of instruction in a specific subject, especially one for use in schools or colleges.
Adjective
(comparative more textbook, superlative most textbook)
Of or pertaining to textbooks or their style, especially in being dry and pedagogical; textbooky, textbooklike.
Having the typical characteristics of some class of phenomenon, so that it might be included as an example in a textbook.
---