noun
The definition of book is a story or collection of stories that can be read.

An example of book is a novel by John Grisham.
verb
To book is defined as to make reservations for something in advance.

An example of book is when you buy airline ticket reservations.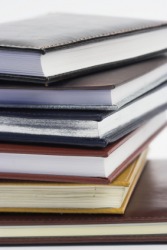 A stack of books.
---
book
noun
a number of sheets of paper, parchment, etc. with writing or printing on them, fastened together along one edge, usually between protective covers
a literary or scientific work, anthology, etc. so prepared, distinguished by length and form from a magazine, tract, etc.

any of the main divisions of a long written or printed work, as of the Bible

a set of blank or ruled sheets or printed forms bound in a tablet, for the entry of accounts, records, notes, etc.: an account book
the records or accounts, as of a business, kept in such a book or books

something regarded as a subject for study: the book of life
the body of facts, traits, or circumstances connected with a person or subject, esp. as being understandable, evident, etc. [an open book] or obscure, done with, etc.: a closed book
studies; lessons

the words of an opera or musical play; libretto
the script of a play

a booklike package, as of matches or tickets

a list or record of bets taken and the odds given, as by bookmakers on horse races

Slang

bookmaker (sense )

Bridge

a certain number of tricks that must be won before additional tricks count in the score; specif., the first six tricks won by the declarer
Origin of book
Middle English
bok
; from Old English
boc,
plural
bec
; from Proto-Germanic an unverified form
bokiz,
beech, beechwood tablets carved with runes ; from Indo-European an unverified form
bhagos,
beech from source beech, Classical Greek
phagos,
Classical Latin
fagus
transitive verb
to record in a book; list
to engage ahead of time, as rooms, transportation, performers or performances, etc.
to record charges against on a police record
to take (bets) as a bookmaker
adjective
in, from, or according to books or accounts
bring to book
to force to explain; demand an accounting from
to reprimand
by the book
according to the rules; in the prescribed or usual way
close the book on
to put an end to
to put an end to further consideration, discussion, etc. of
close the books
Bookkeeping
to make no further entries, balance the books, and draw up statements from them
in one's good (or bad) books
in (or out of) one's favor, or good graces
in the book
☆
in all that is known and practiced in connection with a particular activity: to know every trick in the book
keep books
to keep a record of business transactions
know (or read) like a book
make book
☆
Slang
to make or accept a bet or bets
one for the books
☆
Informal
something notably surprising, shocking, or unexpected
on the books
recorded
listed; enrolled
the book
Informal
any set of rules, pronouncements, etc. regarded as authoritative
throw the book at
☆
Slang

to place every possible pertinent charge against (an accused person)
to deal out the maximum in punishment, penalty, etc. to
write the book on
Informal
to be the definitive authority or expert on
to be the embodiment of: she wrote the book on selfishness
---
book
noun
a. A set of written, printed, or blank pages fastened along one side and encased between protective covers.

b. An e-book or other electronic resource structured like a book.

a. A printed or written literary work: Did you ever finish writing that book?

b. A main division of a larger printed or written work: a book of the Old Testament.

a. A volume in which financial or business transactions are recorded.

b. books Financial or business records considered as a group: checked the expenditures on the books.

a. A libretto.

b. The script of a play.

Book

a. The Bible.

b. The Koran.

a. A set of prescribed standards or rules on which decisions are based: runs the company by the book.

b. Something regarded as a source of knowledge or understanding.

c. The total amount of experience, knowledge, understanding, and skill that can be used in solving a problem or performing a task: We used every trick in the book to finish the project on schedule.

d. Informal Factual information, especially of a private nature: What's the book on him?

A pack of like or similar items bound together: a book of matches.
A record of bets placed on a race.
Games The number of card tricks needed before any tricks can have scoring value, as the first six tricks taken by the declaring side in bridge.
verb
booked
,
book·ing
,
books
verb
, transitive
a. To arrange for or purchase (tickets or lodgings, for example) in advance; reserve.

b. To arrange a reservation, as for a hotel room, for (someone): Book me into the best hotel in town.

c. To hire or engage: booked a band for Saturday night.

a. To list or register in a book: booked the revenue from last month's sales.

b. To list or record appointments or engagements in: A calendar that was booked solid on Tuesday.

c. To record information about (a suspected offender) after arrest in preparation for arraignment, usually including a criminal history search, fingerprinting, and photographing.

d. Sports To record the flagrant fouls of (a player) for possible disciplinary action, as in soccer.

To designate a time for; schedule: Let's book a meeting for next month.
To be hired for or engaged in: The actor has booked his next movie with that director.
verb
, intransitive
To make a reservation: Book early if you want good seats.
adjective
Of or relating to knowledge learned from books rather than actual experience: has book smarts but not street smarts.
Appearing in a company's financial records: book profits.
Origin of book
Middle English
bok
, from Old English
bōc
; see
bhāgo-
in Indo-European roots.
Related Forms:
Word History:
From an etymological perspective,
book
and
beech
are branches of the same tree. The Germanic root of both words is
*bōk-,
ultimately from an Indo-European root meaning "beech tree." The Old English form of
book
is
bōc,
from Germanic
*bōk-ō,
"written document, book." The Old English form of
beech
is
bēce,
from Germanic
*bōk-jōn,
"beech tree," because the early Germanic peoples used strips of beech wood to write on. A similar semantic development occurred in Latin. The Latin word for book is
liber,
whence
library. Liber,
however, originally meant "bark"—that is, the smooth inner bark of a tree, which the early Romans likewise used to write on.
intransitive verb
booked
,
book·ing
,
books
Informal To move or travel rapidly: We booked along at a nice clip.
Origin of book
Perhaps shortening and alteration (influenced by
book
1
) of
boogie
.
---
book
Noun
(plural books)
A collection of sheets of paper bound together to hinge at one edge, containing printed or written material, pictures, etc.

She opened the book to page 37 and began to read aloud.
He was frustrated because he couldn't find anything about dinosaurs in the book.

A long work fit for publication, typically prose, such as a novel or textbook, and typically published as such a bound collection of sheets.

I have three copies of his first book.

A major division of a long work.

Genesis is the first book of the Bible.
Many readers find the first book of A Tale of Two Cities to be confusing.

A record of betting (from the use of a notebook to record what each person has bet).

I'm running a book on who is going to win the race.

A convenient collection, in a form resembling a book, of small paper items for individual use.

a book of stamps
a book of raffle tickets

The script of a musical.
(usually in the plural) Records of the accounts of a business.
A long document stored (as data) that is or will become a book; an e-book.
(law) A colloquial reference to a book award, a recognition for receiving the highest grade in a class (traditionally an actual book, but recently more likely a letter or certificate acknowledging the achievement).
(whist) Six tricks taken by one side.
(poker slang) four of a kind
(sports) A document, held by the referee, of the incidents happened in the game.
(sports, by extension) A list of all players who have been booked (received a warning) in a game.
Verb
(third-person singular simple present books, present participle booking, simple past and past participle booked)
To reserve (something) for future use.

I want to book a hotel room for tomorrow night
I can book tickets for the concert next week.

To write down, to register or record in a book or as in a book.

They booked that message from the hill

(law enforcement) To record the name and other details of a suspected offender and the offence for later judicial action.

The police booked him for driving too fast.

(sports) To issue with a caution, usually a yellow card, or a red card if a yellow card has already been issued.
(intransitive, slang) To travel very fast.

He was really booking, until he passed the speed trap.

To record bets as bookmaker.
(law student slang) To receive the highest grade in a class.

The top three students had a bet on which one was going to book their intellectual property class.

(intransitive, slang) To leave.

He was here earlier, but he booked.
Origin
From Middle English book, from Old English bōc ("a book, a document, register, catalog, a legal document, a bill of divorce, a charter, a title deed, conveyance, a volume, literary work, pages, main division of a work"), from Proto-Germanic *bōks ("beech, book"), from Proto-Indo-European *bheh₁g̑ós ("beech"), *bʰeh₂ǵos.
Cognate with Scots buik, beuk ("book"), West Frisian boek ("book"), German Low German Book, Dutch Low Saxon book, Dutch boek ("book"), German Buch ("book"), Danish bog, Swedish bok ("book"). Related also to Latin fāgus ("beech"), Russian бук (buk, "beech"), Albanian bung ("chestnut, oak"), Ancient Greek φηγός (phēgós, "oak"), Armenian բուն (bun, "trunk"), Kurdish bûz ("elm"). More at beech, buckwheat.
The sense development of beech to book is explained by the fact that smooth gray beech bark was commonly used as bookfell.
Verb
(UK dialectal, Northern England) Simple past tense of bake.
Origin
From Middle English book, from Old English bōc, first and third person singular preterite of bacan ("to bake"). Cognate with Scots beuk ("baked"), German buk ("baked") and probably Albanian bukë ("bread, baked dough"). More at bake
---
book - Investment & Finance Definition
A trader's positions, or list of investments.
A broker's or investment manager's list of clients, which is called a book of business.
---
book - Legal Definition
n
A ledger or register recording particular transactions or events such as financial transactions and police arrests.
v
To enter or record the details of a transaction or event into such a book.
v
The process at a police station of completing an arrest, including fingerprinting and photographing the defendant.
---