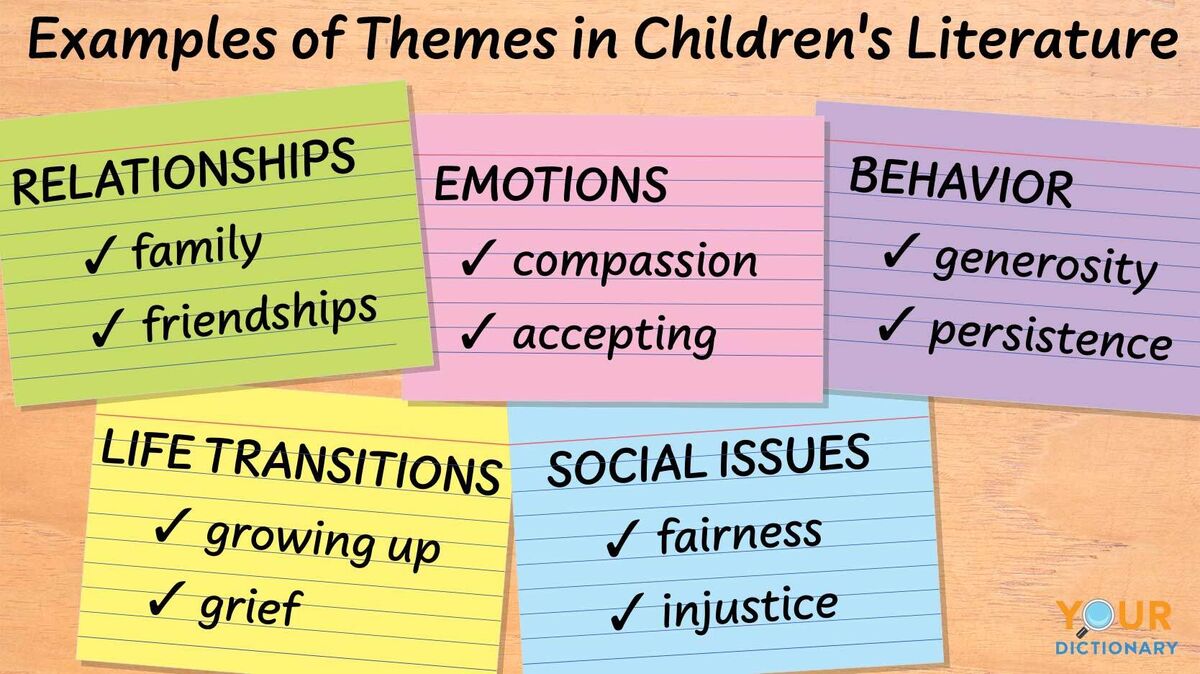 Through reading, children learn about relationships, complex issues, and the challenges and joys they may face throughout childhood and beyond. There are many children's books with a wide variety of themes. Discover 25 of the most common themes in children's literature.
Relationship-Focused Themes
Many children's books focus on themes related to relationships.
Many children's books often center around the theme of family relationships. Some are heartwarming, inclusive stories of the many forms family can take, such as Who's in My Family?, written by Robie H. Harris and illustrated by Nadine Bernard Westcott. Others help children deal with issues like separation and divorce.
Loyalty is a recurrent theme in many children's books. This theme is illustrated very well in A Sick Day for Amos McGee, written by Philip C. Stead and illustrated by Erin E. Stead. This picture book tells the story of Amos, a zookeeper who goes above and beyond to bond with the zoo animals each day. When Amos is sick and misses his rounds, the animals miss him. Rather than complaining that Amos isn't there for them, they take it upon themselves to visit him, repaying his loyalty in kind.
Value and Power of Friendship
Many children's books focus on how priceless and powerful friendship really is. There are many great options out there, including Save Me a Seat by Sarah Weeks and Gita Varadarajan. This book tells the story of a friendship that develops between a local kid whose best friend has just moved away and a new student whose family has just immigrated from another country. Friendship blossoms as the two children band together to protect themselves from the school bully.
Teamwork and Collaboration
Kids spend a lot of time working in teams, from group projects at school to sports teams on the playground and beyond, so teamwork is a common theme in children's books. When Pencil Meets Eraser, written by Karen Kilpatrick and Luis O. Ramos Jr. and illustrated by German Blanco, helps kids understand that everyone has different talents to contribute and that many talents are needed. Kids discover that the finished product is better when team members work cooperatively together.
Themes About Emotions and Attitudes
Kids can struggle with their emotions and attitudes, so children's books often focus on themes related to these topics.
Learning how to accept differences is a common theme in children's literature. The Kid and the Chameleon, written by Sheri Mabry and illustrated by Joanie Stone, is a picture book based on this theme. The young heroine learns to respect that her Chameleon friend doesn't like the same activities that she enjoys. Through pictures and words, youngsters learn that getting along requires give and take. There are many children's books about cultural diversity.
Bravery and courage are often the focus of children's books. The Harry Potter book series by J.K. Rowling illustrates the universal appeal of this theme, beyond even the audience of children. Adults and children alike are inspired by the bravery and courage of Harry and his friends throughout their many adventures.
Compassion is a recurrent theme in children's literature. In Uncle Willie and the Soup Kitchen, author DyAnne Disalvo Ryan seeks to encourage children to feel compassion for those who depend on the kindness of others for survival. The author has real-world experience as a soup kitchen volunteer, so the book is based on a unique perspective on volunteering in a soup kitchen, as well as depending on one for sustenance.
Many children's books have themes focused on the importance of telling the truth. The rhyming picture book Edwurd Fudwupper Fibbed Big by Berkley Breathed (of Bloom County cartoon fame) demonstrates just how much trouble a kid can face as a result of telling the truth. It's a fun and positive story that clearly illustrates that honesty is the best policy.
Learning to feel comfortable with who they really are is an important lesson for kids to learn. As a result, self-concept is a common theme in children's books. In Calvin Can't Fly: The Story of a Bookworm Birdie, an adorable picture book written by Jennifer Berne and illustrated by Keith Bendis, a young bird who doesn't fit in with his siblings because he'd rather read than fly ends up saving the day when a crisis requires book knowledge.
Themes Related to Behavior
Children's literature provides a great tool for children to learn positive behavioral habits.
Early in life, kids need to learn how to cope with feelings of anger. The picture book When I Feel Angry, written by Cornelia Maude Spelman and illustrated by Nancy Cote is a great example of this theme in an age-appropriate book for preschoolers. It provides kid-friendly strategies for recognizing, understanding and effectively handling the emotion of anger.
Many children's books focus on the importance of sharing and generosity. The Berenstain Bears Think of Those in Need by Stan and Jan Berenstain emphasizes just that. In this picture book, the beloved family of bears realizes that they have more possession than they need, so they donate the excess to others. They feel so good about sharing that they also decide to volunteer in their community.
Kids are never too young to learn the value of hard work. One of the most popular classic tales focused on this theme has been around since 1930, when Watty Piper first wrote The Little Engine That Could. It has been adapted and updated many times, but the timeless tale remains as relevant today as when it was first written.

Imagination and Exploring Possibilities
Children who learn to use their imaginations are well-prepared to unlock their creative potential. The picture book I Don't Want To, written by Joseph Maxfield and illustrated by Nate Anderson, focuses on how even everyday activities and less-than-exciting tasks can become wonderful when children infuse a bit of imagination into them.
Perseverance and Persistence
Too often, youngsters are ready to give up too soon. Fortunately, perseverance and persistence are common themes in children's literature. Salt in His Shoes is a picture book that tells the story of how all-time great basketball player Michael Jordan wanted to give up the sport because he was tired of waiting to grow tall enough. Written by Deloris Jordan and Roslyn Jordan (Michael's mother and sister) and illustrated by Kadir Nelson, this book uniquely demonstrates the power of persistence.
Many children's books focus on stories designed to help children learn how to control their impulses. That's the central theme of What Were You Thinking? by Bryan Smith. The book focuses on a third-grader whose lack of self-control leads to disruptive behavior in class and making other children cry. The story reveals age-appropriate strategies for thinking before acting that kids can apply in their own lives.
Children's books can make it easier for kids to understand and work through the life challenges they experience.
Children of all ages face the joy and agony of coming of age on a daily basis. Many children's books focus on the theme of growing up. Are You There God? It's Me, Margaret by Judy Blume is a classic example of a book with a coming of age theme. It has been a favorite for older elementary and tween girls since the 1970s.
For all of the many holidays that exist, there are many books for kids. Children can learn about holidays their families celebrate, as well as observances practiced by other groups. Christmas books are one example, but there are plenty of options for every holiday occasion. Explore a powerful selection of holiday multicultural books for children.
Unfortunately, children aren't immune to experiencing tragedy. Because youngsters need to learn to cope with loss, death and the resulting grief, these topics are common themes in children's books. There are many thoughtful children's books about death and dying, including When a Pet Dies by Fred Rogers (of the long-running children's TV show Mr. Rogers' Neighborhood).
Children spend a lot of time at school, so school life is one of the most popular themes in children's literature. For young kids, Miss Nelson is Missing!, a read-along picture book written by Harry G. Allard Jr. and illustrated by James Marshall, provides a fun lesson on how important it is to appreciate your teacher and others you should value. The young students don't quite realize how good they have it with their regular teacher until a less-friendly substitute takes her place for the day.
With so much upheaval in the world, many children don't know what peace feels like. That's what children's book author Vladimir Radunsky hopes to convey in What Does Peace Feel Like? This unique children's picture book relates peace to the five human senses, from the mouths of babes. The author asked real children to relay what peace feels like to them; that's what's highlighted in this unusual book.

Themes Related to Social Issues
It's so important for children to be aware of social issues that impact the world in which they are growing up.
Fairness is a common theme in children's literature. The Little Red Hen by Paul Galdone is a classic tale that conveys the message that it's only fair to share in the work if you expect to benefit from the results of that work. Animals who refuse to help the title character gather the ingredients to make bread find themselves going without after the hen makes the bread. If only they had contributed, it would have been fair for them to expect the hen to share.
With the 24-hour news cycle and prevalence of social media, it can be hard to protect kids from some societal turmoil. As a result, hope for the future has become a common theme in children's books. In 2020, actress Kristen Bell partnered with author Benjamin Hart and illustrator Daniel Wiseman to create The World Needs More Purple People. This picture book reminds children that they are special and valued for who they are, while also encouraging them to seek common ground with others.
Children's books often tackle tough topics, including the themes of racism and injustice. Something Happened in Our Town by Marianne Celano is a contemporary and insightful story about a police shooting of a black man, told from the perspectives of a white family and a black family. It includes materials for educators, parents or caregivers to use to help facilitate productive discussions with children on this difficult, yet timely and all-too-important topic.
The fact that everyone can make a difference is a common theme in children's literature. This theme is illustrated very well in The Smallest Girl in the Smallest Grade, a rhyming picture book written by Justin Roberts and illustrated by Christian Robinson. The heroine is young and small, but she does her part to make things better for everyone who crosses her path. Her small actions of empathy and courage illustrate how everyone can make the world a better place, one act of kindness at a time.
Children need to learn to stand up for what is right. This is a central theme of many children's books, including the well-loved tale of Horton Hears a Who by Dr. Seuss. Horton is an elephant who, because of his enormous ears, is able to detect a community of Whos residing on a speck of dust. Since no one else can see or hear them, others make fun of him and bully him. Horton knows the Whos are there and that they matter, so he sticks by what he knows to be the right thing to do.
Reading really is fundamental for kids, whether books focus on these common themes or others. It's important to read to young kids and to encourage them to continue reading on their own once they develop reading skills. For more ideas about the many types of books that are available for young people, review this list of children's book types.