noun
The definition of a diary is a datebook or journal where you record events, emotions, thoughts or feelings.

The datebook where you keep track of appointments is an example of a diary.
A journal you keep where you write down your feelings is an example of a diary.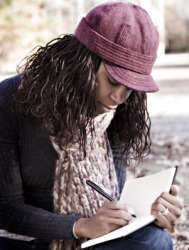 A woman writing in her diary.
---
diary definition by Webster's New World
noun
pl.
diaries
a daily written record, esp. of the writer's own experiences, thoughts, etc.
a book for keeping such a record
Origin: Classical Latin diarium, daily allowance (of food or pay); hence, record of this ; from dies, day: see deity
Webster's New World College Dictionary Copyright © 2010 by Wiley Publishing, Inc., Cleveland, Ohio. Used by arrangement with John Wiley & Sons, Inc.
---
diary definition by American Heritage Dictionary
noun
pl.
di·a·ries
A daily record, especially a personal record of events, experiences, and observations; a journal.
A book for use in keeping a personal record, as of experiences.
Origin: Latin diārium, daily allowance, daily journal, from diēs, day; see dyeu- in Indo-European roots.